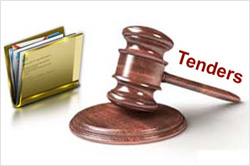 Gujarat National Law University
Attalika Avenue, Knowledge Corridor, Koba (Sub P. O.),
Gandhinagar-382426 (Gujarat), INDIA.
Phone No. : +91-79-23276611/23276612
Fax : +91-7878186624
Website : www.gnlu.ac.in
---
Notice Inviting
---
Tender / EOI Notice
Tender Notice No: PC-08/2019: Supply of Office Furniture at GNLU ( Click here for details )
Tender Notice No: PC-09/2019: Tender For Auction of Disposal/Sale of Treated Fresh Air System (3rd Attempt) ( Click here for details )

---
NOTICE
The following firms/Vendors/Service Providers are prohibited from participating in responses to GNLU Tender Notices/Expression of interest invited now onward.