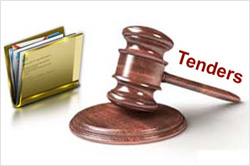 Gujarat National Law University
Attalika Avenue, Knowledge Corridor, Koba (Sub P. O.),
Gandhinagar-382426 (Gujarat), INDIA.
Phone No. : +91-79-23276611/23276612
Fax : +91-7878186624
Website : www.gnlu.ac.in
---
"Expression of Interest for Legal Protection Insurance Policy"
Gujarat National Law University (GNLU) is looking for a legal protection insurance policy which facilitates its access to law and justice by providing legal advice and covering legal costs of a dispute, regardless of whether the case is brought by or against the GNLU. The policy should cover all legal costs (e.g. legal fees and expenses of a lawyer, court fees, witness expenses, expert fees, etc.) incurred in case of any legal matter arising out of disputes with its employees or potential employees, students or potential students, suppliers and vendors.
Interested general insurance companies are invited for a presentation at the GNLU campus, Gandhinagar on Friday, 11 January 2019 at 1430 Hrs.
For any further information, you may kindly contact Dr. Mobin Shaikh, Assistant Professor (Commerce & Management) & Officer on Special Duty, Procurement and Finance (Office of the Director), on +91-8128657561/ procurement@gnlu.ac.in
---
NOTICE
The following firms/Vendors/Service Providers are prohibited from participating in responses to GNLU Tender Notices/Expression of interest invited now onward.