Global Outreach Activities at GNLU
GNLU has adopted a three tier approach i.e. State, National & International to spread legal knowledge at its best. GNLU is slowly and steadily marching towards opening international horizons for the students and faculty. The Global Outreach is Programme at GNLU is being established at a rapid pace. Global Outreach is achieved by the four major activities carried out by the university;
Study Tour/Student Exchange :
Students interested in pursuing short-term courses or a full-credit semester course in law and interdisciplinary areas such as arts, commerce, science and technology, business administration and social work are invited to GNLU. They can spend a varied duration at GNLU and will be evaluated and given academic credits for their participation.
Faculty Exchange :
Professors in interdisciplinary fields are invited to engage GNLU students/faculty for a particular course in any of the semesters. Details of the courses are available on the GNLU website. Similarly GNLU faculty can be invited by a partner institution under the faculty exchange programme. Depending on the funding available, the Visiting Professor will be sponsored with boarding, lodging and a honorarium.
Joint Research:
Any issue that can contribute to the consolidating of bilateral relations can be taken up jointly by GNLU and partner universities for research. Researchers can spend some a partial time at each other's institutions for better interaction.
Lecture Series :
Visiting dignitaries and high-level political, judicial and executive officials are invited to deliver lectures on areas of their specialization and current portfolio to create better awareness on the issues.
GNLU Collaborations :
MoUs :
| International | National | Within Gujarat |
| --- | --- | --- |
| Université Paris Ouest Nanterre La Défense | Enhelion Knowledge Ventures Pvt Ltd | Gujarat Technological University, Ahmedabad, Gujarat |
| Université Montesquieu -Bordeaux IV, France | CUTS Institute of Regulation and Competition, New Delhi | Kadi Sarva VishwaVidyalaya University, Gandhinagar, Gujarat |
| University of Cologne Germany | Bureau of Police Research and Development, Ministry of Home Affairs, New Delhi | Gujarat Forensic Science University, Gandhinagar, Gujarat |
| University of Mauritius, Mauritius | Sports Law India, New Delhi | Pandit Deendayal Petroleum University, Gandhinagar, Gujarat |
| University of Malaya, Malaysia | Maharashtra National Law University, Mumbai | Gujarat State Disaster Management Authority (GSDMA) Gujarat, India |
| University of Copenhagen, Faculty of Law, Denmark | BPHES' Centre for Studies in Rural Development (CSRD), Institute of Social Work & Research (ISWR), Ahmednagar. | HK School of Foreign Languages, H. Kumar's Education Institute, Ahmedabad |
| The Hague University of Applied Science, The Netherlands | India International Institute of Democracy and Election Management, Election Commission of India, New Delhi | Police Training College, Junagadh, Gujarat, India |
| University of Barcelona, IDSE, Spain | Maharashtra National Law University,Nagpur | Gujarat Knowledge Society |
| University of Rome, La Sapienza, Rome, Italy | | |
| United National Institute for Training and Research (UNITAR), Geneva, Switzerland | | |
| World Trade Institute, Bern, Switzerland | | |
| Vietnam National University of Ho Chi Minh City | | |
| The Faculty of Law, Bond University, Queensland, Australia | | |
| University of Illinois, USA | | |
| Osaka University, Japan | | |
| International Federation for Law of Sea | | |
| Supreme Court of Bangladesh | | |
| Edith Cowan University, Australia | | |
| Tribhuvan University, Kathmandu, Nepal | | |
| Prime University, Bangladesh | | |
Why GNLU For Collaboration?
| GNLU | GNLU Students |
| --- | --- |
| International standard infrastructure | Ample exposure for students through National and International Moot Courts/ Conferences/ Seminars |
| Exemplary state of the art library and advanced computer facilities | Opportunity for students to assist in research activities headed by the Director, GNLU, and other faculty members |
| World-class amenities for students and staff | Internships at various recognised international organisations such as UN, NATO, WTO |
| Residential hostel facilities within university campus for students | Internships with government bodies such as SEBI, MEA, Supreme Court, High Courts, PSUs |
| Encouragement via scholarships for academics and research; highly-educated and experienced faculty to guide | Varied electives in Sports, Food & Agriculture Economies, Private & International laws, Foreign Policies, etc |
Student Exchange
Guidelines On Gujarat National Law University Student Exchange Programme (GNLUSEP)
Introduction
The increasing focus on internationalisation of higher education has made a study abroad programme an essential part of a university learning process. This significant aspect of learning is made possible at the Gujarat National Law University through its study abroad - student exchange programme. The GNLU student exchange program (GNLUSEP) is designed for international students who wish to acquire the experience of living and studying in an Indian campus through a short-term study programme. It aims at fostering international understanding among students of different nationalities by providing an excellent learning environment.
Through the programme, students from abroad can pursue studies through taught courses or research in their field of interest and gain broad perspectives on different cultures and backgrounds of their peers.
---
Definition
The GNLUSEP is a short-term study programme offered to international students. Categories of GNLUSEP are listed as follows:
Student exchange programme

GNLUSEP applies to students who are interested in spending at least one semester and not more than one academic year at the Gujarat National Law University. Students enrolling under this programme will be permitted to register in courses or research areas of their choice (subject to the rules and regulations governing the programme). GNLUSEP is open to all undergraduate/post graduate students from foreign universities.

Visiting student programme

The visiting student program is a short-term study or attachment programme with a minimum period of at least four (4) weeks to expose students to aspects of Indian culture and traditions. The programme has been designed to be fun and educational and carries equivalent credit hours for each course attended. For the benefit of students who are not proficient in the local language,it is suggested that they may register for courses taught in English only.
Eligibility and conditions of admission
A student must be a registered undergraduate or postgraduate student of another university.
A student must be academically suitable for the undergraduate course/s or research topic he or she is applying to take.
A GNLUSEP student shall be admitted for a period as stipulated in 2.1 and 2.2 of this guideline.
If a GNLUSEP student is admitted on an audit basis, he/she can only attend lectures and will not allowed to sit for an examination.
---
APPLICATION FOR ADMISSION
Application for admission as a GNLUSEP student must be submitted to the International Relations Coordinator, Gujarat National Law University at least three (3) months prior to the beginning of each semester or date of attachment.
The student is responsible for obtaining from the respective faculties, the information on the course/s that the student is interested in. The course/s chosen need not be relevant to the student's educational background and field of studies.
Application form for admission as a GNLUSEP student/researcher can be obtained at : GNLUSEP_Application Form.pdf
GNLU Student Exchange and Participation in Co-Curricular Activities Request and Evaluation Form :
GNLU Student Exchange and Participation in Co-Curricular Activities Request and Evaluation Form
Completed application form must be submitted in two (2) copies together with the following documents before the deadlines stipulated below :
Subjects offered
Information regarding subjects offered in the UG and PG courses can be viewed at
Important timelines
Supporting documents :
Two (2) copies of academic transcript/record
Recommendation letter from the Dean or appropriate authority from home university
Application form must be sent to :
The International Relations Coordinator
Gujarat National Law University
Attalika Avenue, Knowledge Corridor, Koba,
Koba (Sub P. O.), Gandhinagar-382426 (Gujarat), INDIA.
International Relations Coordinator
---
APPLICATION APPROVAL
Each application is evaluated and considered individually.
The Dean of Academic Affairs or the Director shall be empowered to admit a person as a GNLUSEP student subject to the following conditions:
No GNLUSEP student shall be admitted for a period exceeding one calendar year if he is undertaking research or one academic year if he is following courses; and
The total number of courses that may be taken by a GNLUSEP student shall not exceed the total credit hours as decided by the Dean or the Director.
If for any particular reason, an approved course is not available upon registration as a GNLUSEP student at the University, a student may be allowed to register for another course which is equivalent or whichever course is recommended by the Dean of Faculty.
The letter of acceptance will be mailed to a successful student together with necessary documents to the mailing address given on the application form.
---
EXAMINATIONS AND CREDIT TRANSFER
Credits accumulated at Gujarat National Law University are usually transferable to a student's home university as part of the requirements for graduation/post graduation. GNLUSEP students are bound to follow the Gujarat National Law University's examination rules.
A GNLUSEP student shall not be permitted to take any examination of the University except with the prior written permission of the Registrar. Permission shall only be granted if such student is already a student of another university or institution and is applying for transfer of credits to his university or institution. Application to take any examination shall be made in writing to the Registrar accompanied by a letter from any authorised officer from the home university or institution requesting for such arrangements to be made.
Permission to take any examination of the University under this subsection is granted subject to the following conditions:

The student shall have followed the courses leading to the said examination to the satisfaction of the examination rule; and
The results of any examinations taken shall not be released to the student but shall be sent direct to his university or institution.
---
FEES
GNLUSEP students will get a tuition fee waiver, limited to a specific number of students if stipulated in an agreement between their home university and Gujarat National Law University. Other expenses such as airfare, administrative fees, visa charges and other costs will be borne by the applicants or their home university.
Visiting students shall pay all fees upon registration.
---
GENERAL MATTERS
Library Facilities
GNLUSEP students are ONLY permitted to use the university library facilities. A student identification card must be produced upon registration at the library. Information about the Library can be obtained at http://14.139.122.52:8080/opac/
Accommodation
On-campus housing with double rooms and communal facilities are provided for GNLUSEP students. The university is developing a facility for international students to stay with a host family.
Access into the hostel areas is controlled by 24 hours securities facilities. Special care has been taken to provide security and privacy for the girl students in their hostel.
Rooms in the residence halls are well furnished; some furniture is movable and some furniture is built in. All the rooms come fully furnished with beds, desks and chairs.
Each residence hall is provided with ample lounges for kicking back, studying for the next exam, or just relaxing with friend.
Each room in all of our halls are connected to the campus network and the Internet. Students need to bring their own computers.
There is a laundry service is available with a flexible time schedule. The charges for the laundry service are posted on the price list.
The university has a gymnasium. When living on campus you are more likely to visit these facilities during specified hours.
Students may also choose other private housing best suited to their lifestyle and location on their own.
Extracurricular Activities and International Exchange Activities
To fully benefit from their stay at Gujarat National Law University, GNLUSEP students are encouraged to participate in activities organised by Student Activity Committee or students' associations. The Student Activity Committee of the university oversees all activities by student organisations and societies. By participating in the activities, GNLUSEP students will have an opportunity to learn about Indian culture and gain experience of studying in an Indian campus.
Health Insurance
Students are advised to have adequate medical insurance coverage especially for hospitalisation. Nonetheless, treatment for minor illnesses can be obtained at the university hostel. There are several types of health insurance made available by local insurance companies.
Discipline
All students are bounded by the Rules and Regulations of GNLU.
Study Tour Downloads
---
FURTHER DETAILS
Further details about University can be obtained at http://www.gnlu.ac.in
University of Copenhagen, Copenhagen, Denmark
Sharad Joseph Kodianthara, Xth Semester, B.A. LL.B (Hons.) 2013-18 Batch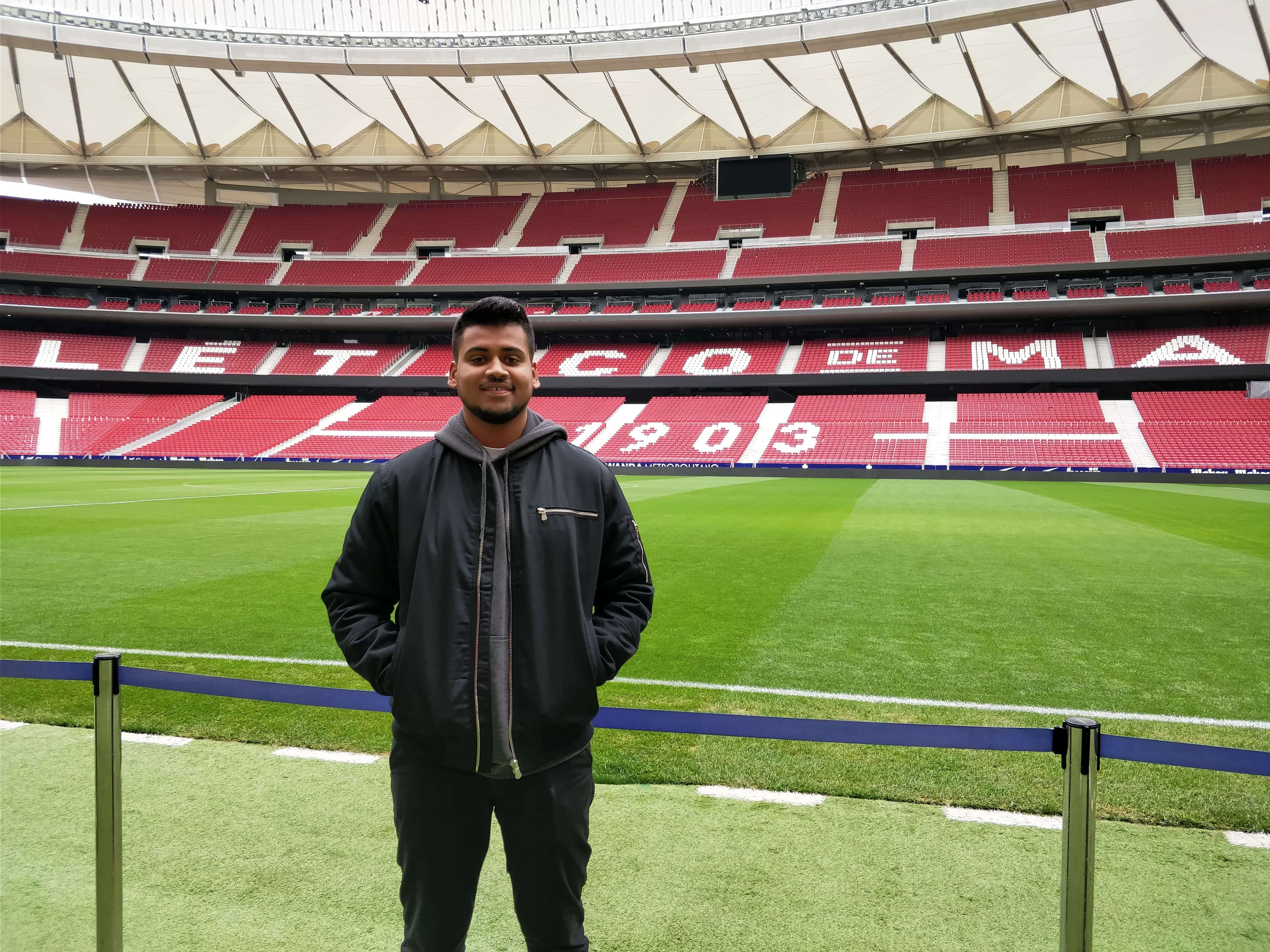 Before beginning my brief report, I would like to thank the Student Exchange Department and GNLU with all my gratitude for giving me the opportunity to attend a semester abroad at the University of Copenhagen in Denmark. It has been a great experience and one I have learnt a lot from.
The summer semester at the University of Copenhagen was from January 1, 2018 to June 31, 2018.
I studied the following courses:
Introduction to Danish Language A1 level

Drafting and Negotiating International Contracts
International Criminal Law and Procedure
The classes were very interesting and the teachers kept us involved and interested by having very practical assignments, group work, and discussions.
The University had many facilities including multiple Café's for food and beverages and large canteens for meals. There were many options for food for both vegetarians and non-vegetarians. There were a lot of sports and other activities that we could enrol in as well. I very much appreciated experiencing the education system in a different country.
Copenhagen was also a very nice and vibrant city to be in. There was a huge exchange student community which made it convenient to meet other students from all over the world. I met many people from all over the world and made many friends. People were warm and forthcoming. Everybody was very helpful. Luckily for me, the weather in Copenhagen was also very good during this semester. It was very interesting to learn about the scandinavian way of living and how societies in such counries operate as opposed to India.
It was overall an amazing experience altogether that I shall cherish forever.
Radboud University in Nijmegen, Netherlands
Shefali Mehta, Xth Semester, B.B.A. LL.B (Hons.) 2013-18 Batch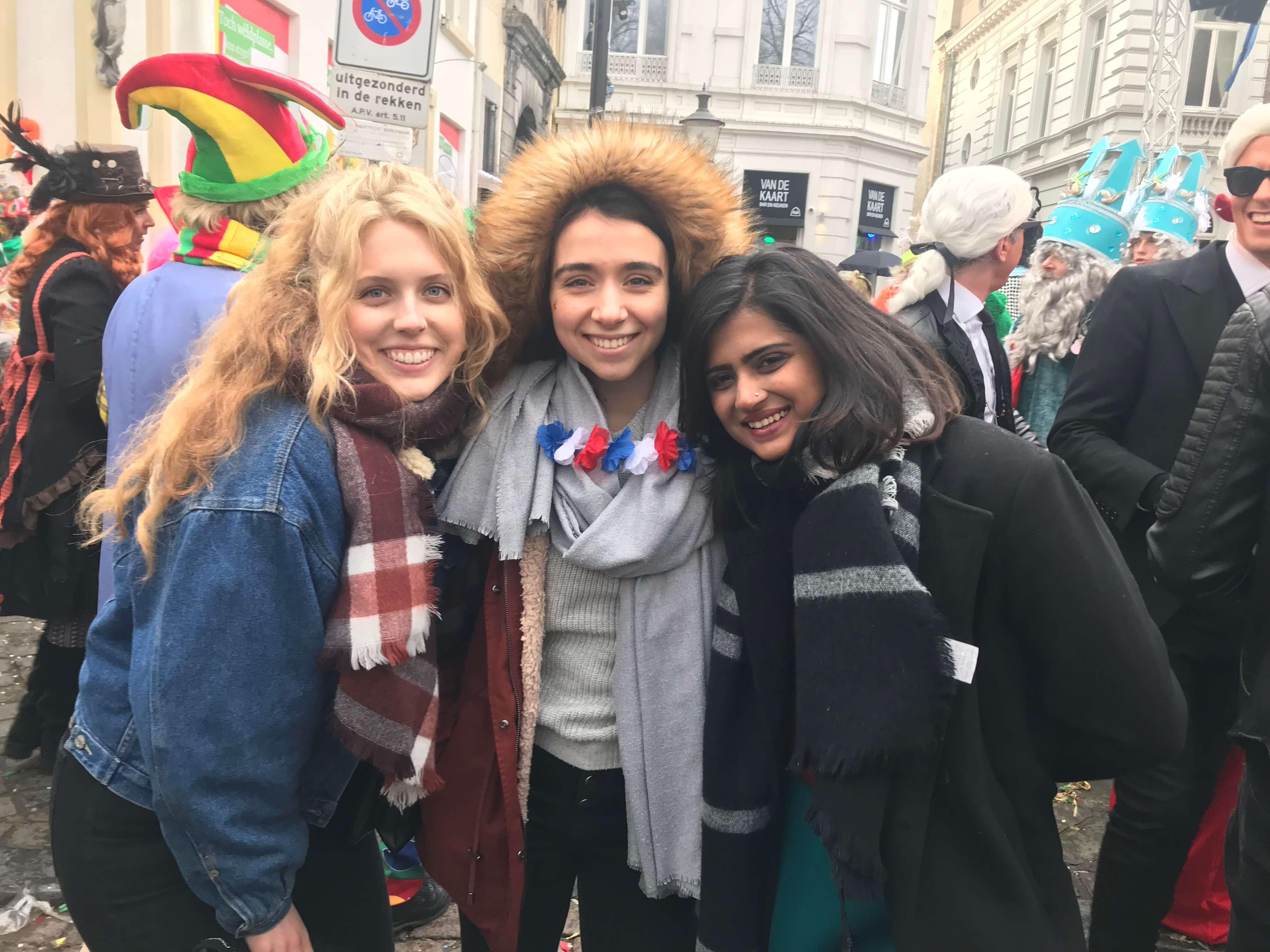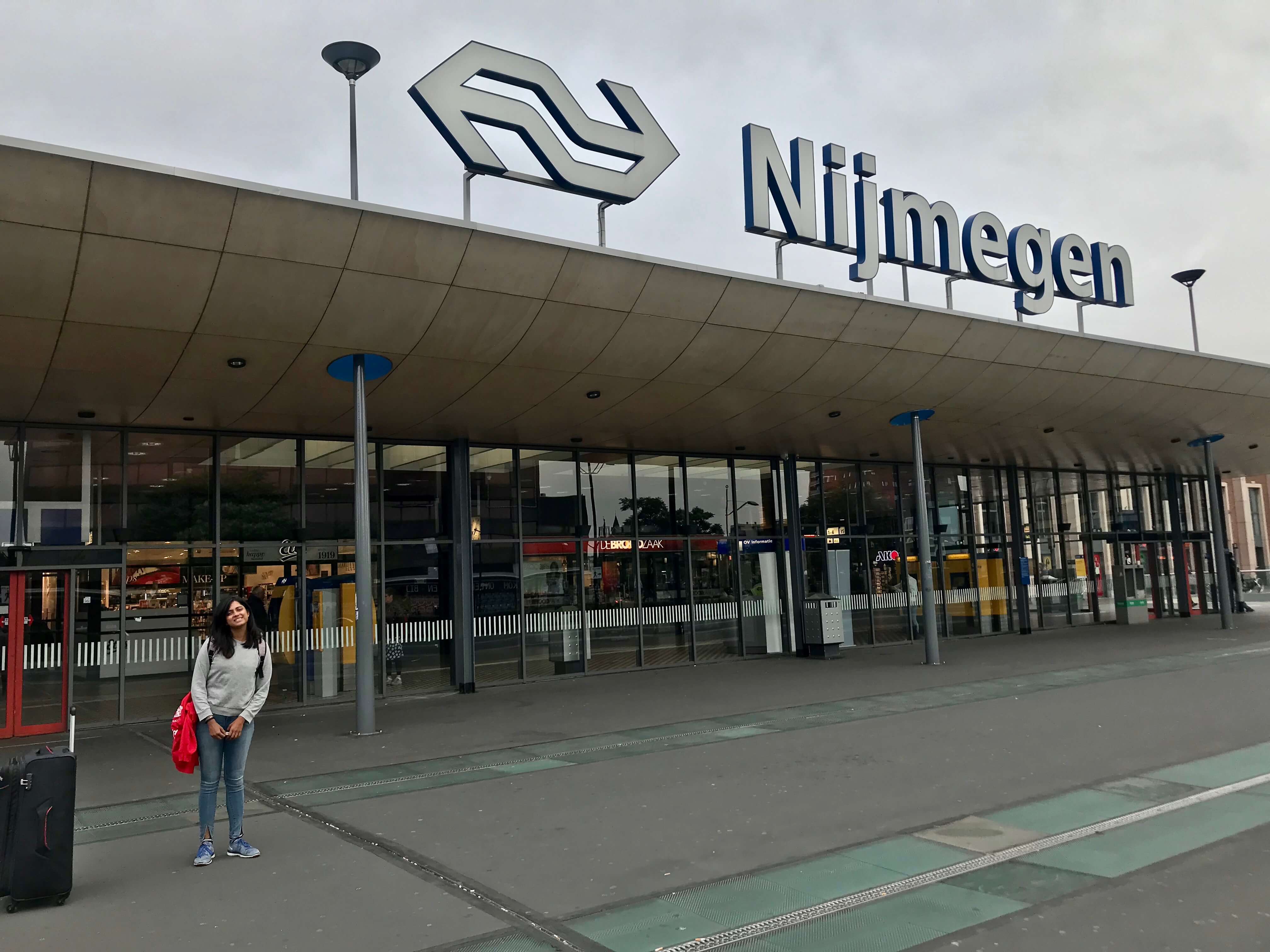 I chose to do my Xth Semester on exchange at the Radboud University in Nijmegen, Netherlands. Nijmegen is a picturesque student town that is home to three educational institutions and large diverse student community! Like any other student in a foreign. I was a little apprehensive. More so, about being a fresher all over again in my 5th year and having to re-adjust to a whole new system. However, Radboud University made the whole experience so smooth. The exchange programme began with an extensive one weeklong orientation programme, at the end of which I had already begun to call Nijmegen home. The academic experience on my exchange was very eye opening. To study subjects of law within a civil system as opposed to the common law system in India was very interesting. It gave me a new perspective of the legal system on the whole. In addition to this, the methodology of teaching and criteria to assess students is largely different from the Indian system and this helped me broaden my academic boundaries. Academics aside, to be an exchange student in Europe, where there is a strong student exchange programme in the form the Erasmus programme in place, gave me a chance to be a part of the 'exchange community' that had many student run organisations which help you make the most of your experience. Interacting, living and studying with students from different countries across for 6 months exposed me to a variety of cultures, cuisines, languages and perspectives. I also had the privilege to experience a lot of local culture, participate in the " Carneval ", be a part of the King's Day celebrations in the Netherlands and visit other countries and experience their culture as well. I will carry the experiences, lessons and memories from this exchange for a lifetime. I would recommend the student exchange experience to everyone because it is a wholesome experience. You will grow academically, culturally and learn some life lessons but more than anything you will have a lot of fun!
University of Illinois at Urbana-Champaign, USA
Digvijay Dam, VIIIth Semester, B.Sc.LL.B (Hons.) 2014-19 Batch
(University of Illinois at Urbana-Champaign, United States)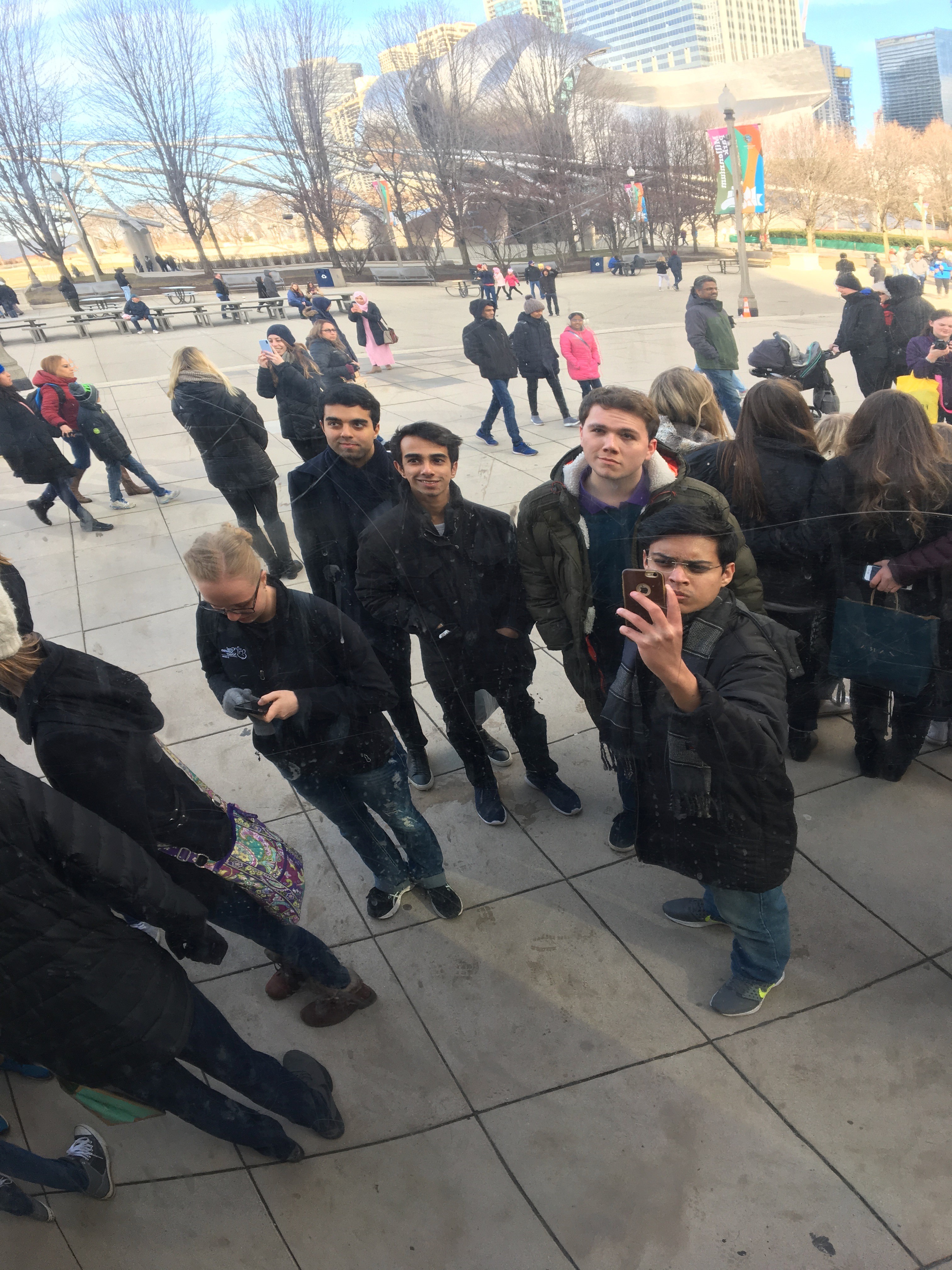 It's said that time in Illinois flies by very quickly and right from the moment you land in Chicago's O'Hare airport, your 4 and a half months would pass by in a jiffy. University of Illinois at Urbana-Champaign (also known as U of I or UIUC) is ranked as the 32nd most prestigious university in the world for its research and teaching. My time in the College of Law was extremely fruitful and memorable, especially having met like minded peers from all over the world and having the sheer joy of sharing our cultures and at the same time learning the law in their vibrant company. In UIUC, Indians are the 2nd most prominent international student community after the Chinese, so wherever you're travelling in Urbana-Champaign, it's a chance you'll be hearing Hindi and other Indian languages, immediately giving you homely vibes, which is further accentuated with the presence of quite a good number of Indian restaurants in this area. In the College of Law, you'll feel delighted interacting with the faculty members and the staff and they would often go out of the way to clear your doubts/queries. To conclude, being a student of GNLU academically grooms you to undertake any number of challenges in the world and you'll feel right at ease studying with an international community, in a foreign environment.
Contact Us
PATEL, Jatin Mr
Senior Clerk
Internationalization,
Students' Awards,
Scholarships & Exchange
Mobile No: +91-8128650823
Email: sase@gnlu.ac.in