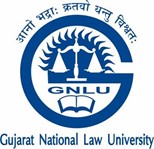 National Cadet Corps
Gujarat National Law University
About NCC
NCC is a self-motivated organization of fledgling boys and girl's entire India. It plays a momentous role in indoctrinating values of character, patriotism, unity and selfless services amid the youth. It helps in determining the youth into discipline and making them accountable citizens of India. NCC provides a podium for self-development and supports to channelise their energy and latent towards nation building.
The National Cadet Corps (NCC) is a youth advancement movement. It has mammoth latent for nation building. The NCC delivers prospects to the infancy of the country for their overall development with a wisdom of duty, commitment, dedication, discipline and moral values so that they become bright cream of the crop and advantageous citizens. The NCC provides acquaintance to the cadets in a wide range of activities with a distinct emphasis on social services, discipline and adventure training. The NCC is exposed to all regular students of schools and colleges on a voluntary basis. NCC has three wings Army, Navy and Air Force.
The National Cadet Corps came into presence on 15th July, 1948. The NCC in India was moulded with the National Cadet Corps Act of 1948, the origin of NCC can be pursued back to the University Corps, which was formed under the Indian defence Act 1970, with the objective to make up the shortage of Army.
The students are exposed to regular drills, physical activities and academic classes related to General Knowledge, War Tactics, Defence Functioning, Armed Forces, Map Reading, Communications, Infantry Weapons, Field Craft & Battle Craft, Military History and much more practical knowledge and general awareness is provided to the enrolled Cadets.
NCC as a Course
Every year NCC cadet has to be selected and attend at least 1 training camp. Dissimilar training camps like ATC (Annual Training Camp) TSC (Trial Selection Camp), AAC (Army Attachment Camp), NIC (National Integration Camp), greatest honourable RDC (Republic Day Camp), Adventure and Trekking Camps are arranged by Group Head Quarters all over India. Weapon training about LMG (Light Machine Gun) AK-57, Firing, Map Reading, Judging distance, Sports and cultural activities.
NCC Cadets can do adventures activities like hiking, river crossing, rock climbing, horse riding, parasailing, paragliding, cycling, motorcycling, Vehicle Expedition Rallies and Camel Safari. If the NCC Cadet holds a good personality and excellent communication skills he can get selected for YEP (Youth Exchange Programme) where he gets an opportunity to visit abroad and communicate with other nation's people. With NCC training cadets also has to do social activities like blood donation, tree plantation, and duties during Ganpati Utsav, Elections, Polio Organisation and Traffic Control.
After completion of 2 years and at least 1 camp cadet can appear for 'B' Certificate Examination and after completion of 3 years and at least 2 camps cadet can appear for 'C' Certificate Examination.
Vacancies are reserved for commission in defence services for NCC 'C' Certificate holders.
Army: IMA (Indian Military Academy) Dehradun, 64 vacancies every year through UPSC and SSB Interview. OTA (Officers Training Academy) Chennai: 100 vacancies every year for short service commission, no UPSC Examinations only SSB Interview.
Navy: 6 Vacancies for course no UPSC Examinations only SSB Interview. 2 years age relaxation for NCC 'C' Certificate holders.
Indian Air Force: 10% vacancies in all courses including flying training courses. No UPSC Examination only SSB Interview.
NCC in GNLU
GNLU (Gujarat National Law University) caters to the Army Wing of the N.C.C. It is affiliated with 2 Gujarat Indep Coy NCC. Under the guidance of Commanding Officer, Lieutenant Colonel Anil Choudhary, raised its 1st batch of NCC Cadets. Cadets from GNLU are enrolled with the 2 Guj Indep Coy based in Gandhinagar, Gujarat. Ever since its inception, the training and activities of GNLU NCC has been going on with full swing and is seeing an enthusiastic participation by the cadets. The ANO provides all the guidance required for the functions and activities of N.C.C. to the University Cadets and guides them towards a bright future. The N.C.C. office appoints multiple officials to train cadets in all aspects, starting from the parade to academic subject, supported by the ANO.
In the Year 2019, GNLU NCC saw an enrollment of 25 Cadets. Following the next year, 22 more Cadets were enrolled in the 1st Year of Senior Division. GNLU NCC continues to see a very enthusiastic response from the students. For the enrollment process, priority is generally accorded to the students in their 1st/2nd Year of Law course.
Apart from the regular drills and lectures attended by the cadets, GNLU NCC has also been actively engaged in Plantation Drives, Blood Donation Camps, Swaccha Bharat Mission, Fit India Rally, etc.
Achievements of GNLU NCC
1) 6 Cadets- Cdt Rohan Jha, Cdt Manav Dhanwal, Cdt Nahush Gautam, Cdt Shivang Mishra, Cdt Vedanta Vishwakarma, Cdt Joginder appeared from 2nd Year NCC appeared for the B certificate examination upon a successful completion of CATC camp in February 2021 previously.
2) Cadets Rohan Jha and Nahush Gautam were awarded the A (Best) Grade in the examination.
3) Cadet Rohan Jha was nominated by the 2nd Guj Indep Coy to Compete for the Best Cadet Award at the Group Headquarters Level
4) 4 Cadets from GNLU NCC went on a Trekking expedition to Andhra Pradesh from 03-10 December, 2021:
JUO Nahush GAutam
Cdt: Rishiraj Chauhan
Cdt: Prathmesh Bhagure
Cdt: Dhawal Jangir
5) GNLU NCC inducted 50 no. of Cadets from the 2nd and 1st year programme of Law course. The Cadets participated in the regular drills and training with full enthusiasm and vigor.
6) Cadet Manvendra Singh Shekhawat has been nominated from 2 Guj Indep Coy to compete for Youth Exchange Program selection.
Contact Us
Dr. Sugnesh Chudasama
Associate NCC Officer,
Assistant Director of Physical Education and Sports,
Gujarat National Law University,
Koba-Gandhinagar-382426 (Gujarat), INDIA.
Mobile No: +91-99040 29152
E-mail: ncc@gnlu.ac.in