International Symposium on Environmental Justice and Sustainable Development Goals (15-16 March, 2019)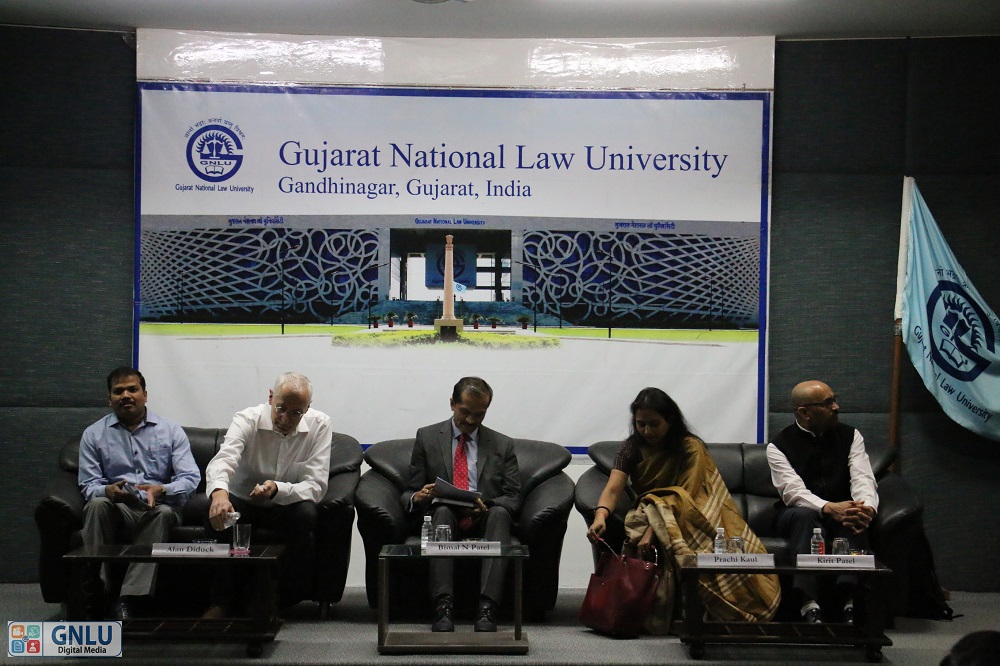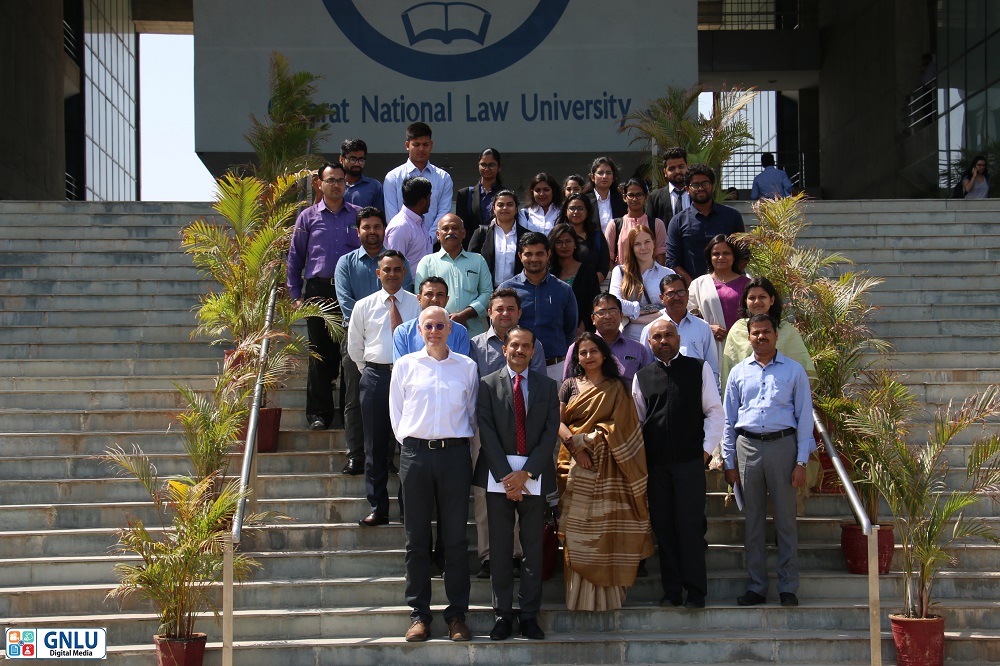 On March 15, 2019: GNLU inaugurated the Symposium on Environmental Justice and Sustainable Development Goals with the stated objective of Balancing Economy and Environment for Inclusive and Equitable Growth. This symposium is a result of a collaboration between Gujarat National Law University, the University of Winnipeg, the Canadian Mennonite University, Canada.
The symposium was graced by Prof. (Dr.) Bimal N. Patel, Director of GNLU and Member of the National Security Advisory Board, Government of India, Dr. Prachi Kaul, Director of the Shastri Indo Canada Institute, New Delhi, Prof. Alan Diduck from the University of Winnipeg, Canada and Prof. Kirit Patel from the Menno Simons College, CMU, Canada. They have drawn attention of theoretical insights of law and development scholars who have questioned traditional meanings of environmental justice based simply on principles of fair treatment and equity in distribution of environmental risk. Prof. Patel stressed upon the development is sustainable when it "meets the needs of the present without compromising the ability of future generations to meet their own needs." The principles of sustainable development are enshrined in the 1992 Rio Declaration on Environment and Development and confirmed in subsequent instruments. They include equity and justice for present and future generations - inter - and intra - generational equity; and recognize that "Human beings are at the centre of concerns for sustainable development.
The UN Declaration on the Right to Development, adopted on 4 December 1986, defines development as 'an inalienable human right by virtue of which every human person and all peoples are entitled to participate in, contribute to, and enjoy economic, social, cultural and political development, in which all human rights and fundamental freedoms can be fully realized.' It places on States a duty to formulate national and international development policies aimed at the constant improvement of human well-being as well as a duty to cooperate to ensure development and eliminate obstacles to development. The Declaration calls for disarmament and upholds self-determination and sovereignty over natural wealth and resources; requires active, free and meaningful participation in development and fair distribution of its benefits; and makes equality of opportunity for development 'a prerogative both of nations and of individuals who make up nations'. It supports a social and international order in which all rights and freedoms can be realized by all, as envisioned in the Universal Declaration of Human Rights. Development is sustainable when it "meets the needs of the present without compromising the ability of future generations to meet their own needs."
Dr. Prachi Kaul, Director of the Shastri Indo Canada Institute, New Delhi. The Shastri Indo Canada Institute is a binational organization that promotes intellectual and cultural linkages between India and Canada through research, dialogue and exchange, to improve the quality of life of people in both countries. The Shastri Institute plays a pivotal role in Indo-Canada relations and greatly facilitated scholarship, research and exchange between Indian and Canadian universities.
The Conference is an attempt to stimulate and sustain conversation on environmental justice. The pivot of the all discussion is goal 16 of the sustainable development goals – which lays a much-needed emphasis on access to justice and effective, accountable and inclusive institutions. This underlines the strong connections between sustainable development and environmental justice. Over the next couple of days, two panels over 5 sessions will grapple with issues concerning all aspects of environmental justice – procedural, distributive, recognitional and restorative. The sub themes for the symposium are diverse and comprehensive ranging from the historical reviews of legislation, policy, institutions and jurisprudence, the use and abuse of public interest litigation, to a re-gendering of the conventional legal system, and the search for alternative dispute resolution mechanisms in environmental conflicts.
Prof. Alan Diduck and Prof Kirit Patel from The Winnipeg University and Canadian Mennonite University, Winnipeg given importance how they have entered into relations. All administrators always work hard to raise financial resources and establish new institutional collaboration. Dr Bimal, the order is reverse, he always said let us work together, resources will follow. It is true if you wait for financial resources to incubate and implement new idea, very often by the time resource come, ideas become either obsolete or innovator loses patience moves on to something else. Point it out with Shastri's example.
The Indian judiciary is known for innovations in the legal system. The PIL, Green Benches, NGT are indeed some of the outstanding examples of legal innovations that have been recognized across the world. In the last two decades, more than 40 countries have established environmental courts at federal or local levels in their countries.
The creation of PIL is undoubtedly a credible indicator of the judiciary's intention to address poverty, social exclusion, income inequality, and power imbalances. However, the pro-poor reputation of the judiciary has come under question in the neoliberal era. Given the unique history and phenomenal rise of judicial environmentalism in India, environmental justice issues require careful examination.
The enactment of the NGT has come at a time of accelerated economic growth in India marked by an average GDP increase per year of 7% between 1995 and 2014 (IMF 2015). The economic surge has, however, been clouded by widespread environmental degradation, income inequality, and rising poverty.
GNLU has played an instrumental role in organizing this conference. GNLU has been an ongoing partner with Environmental Justice and the Poor, conducting environmental research and providing tremendous institutional support to student researchers while in India. Several faculty members from GNLU have also been directly involved in the research.
International Conference on "Identity and the Politics of Security, Sovereignty and the Challenges of World Politics" on 15th and 16th September, 2018.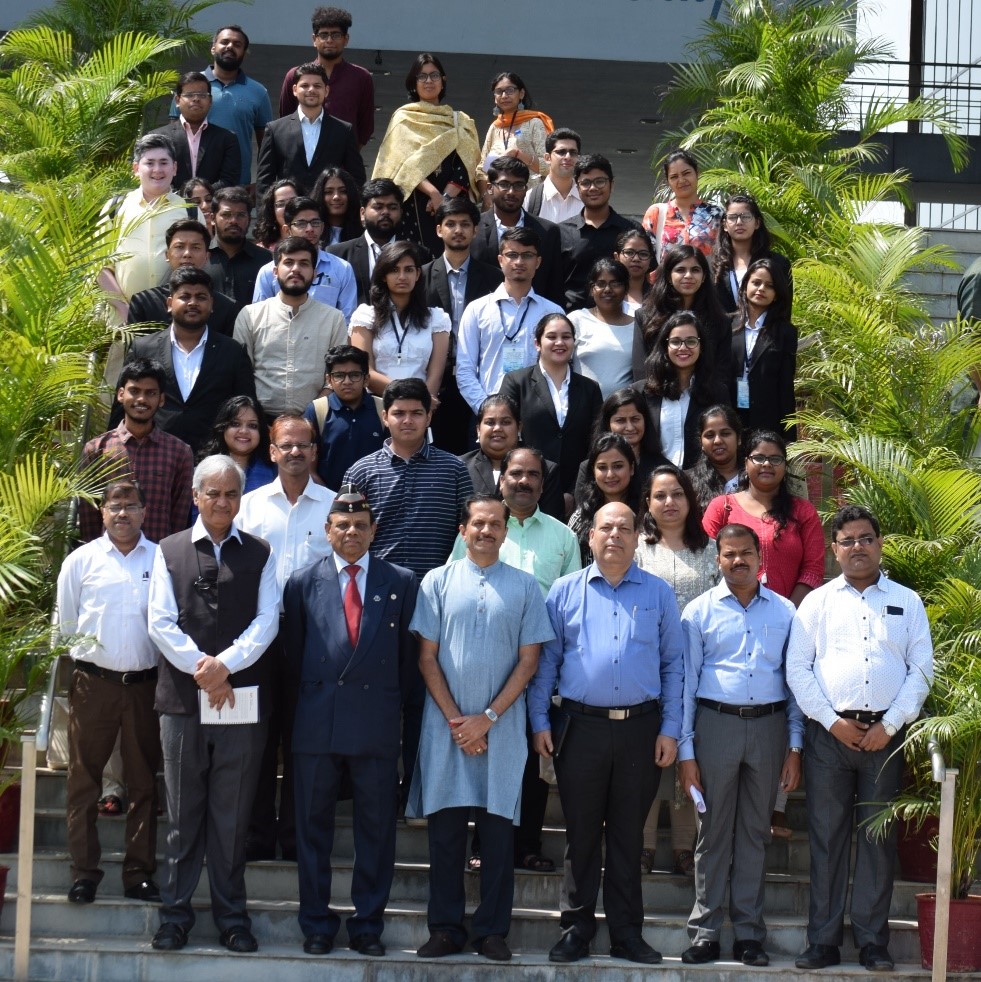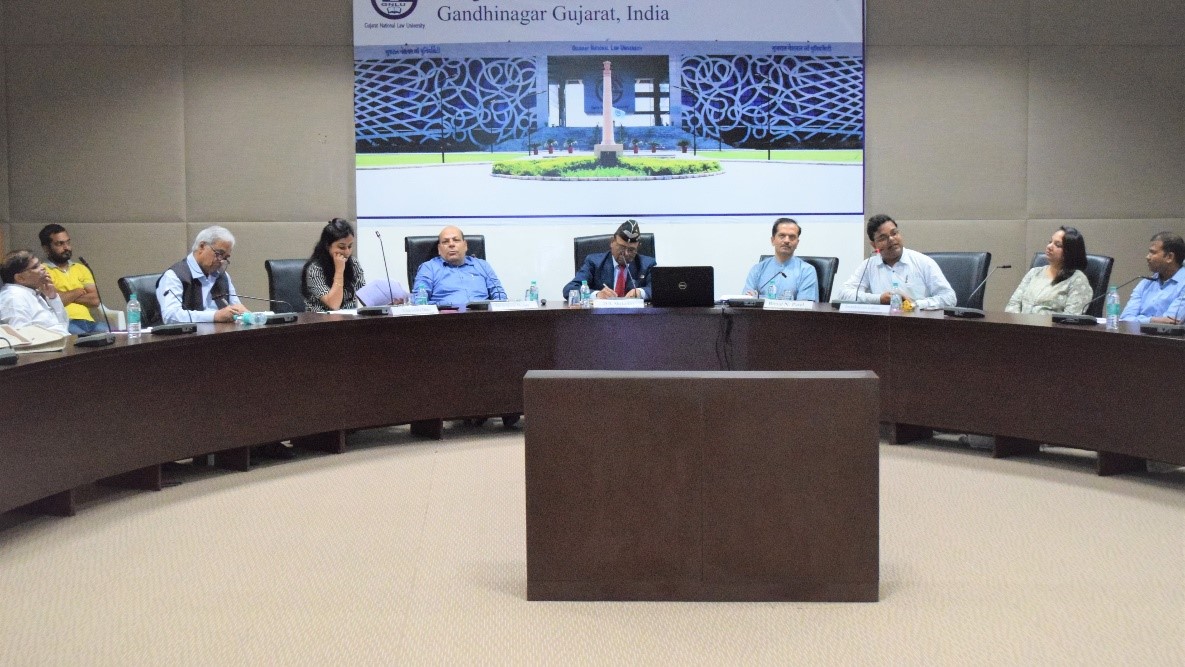 GNLU Centre for Foreign Policy and Security Studies in collaborative partnership with The Jadavpur Association of International Relations (JAIR) & Indian Council of World Affairs (ICWA) successfully organized a two days conference on 15th and 16th September, 2018 at GNLU Campus.
The conference attempts to explore these controversies and to assess their implications for the broader Critical 'rethinking' of security and security studies by developing a brief account of the largely unexamined historical background against which they take place.
One of the major contributions of the 'critical' movement in International Relations has been to denaturalize the modern state as a starting point for analysis, and to initiate a serious examination of its historical genesis and evolution. Both the structure of the modern political order and that of the modern episteme have become areas of significant inquiry
To examine briefly some of the ways in which the construction of the modern state and the construction of modern modes of knowledge were related in recasting the nature of security. Indeed, the new conceptions of knowledge which characterized this transformation were part of an explicit political agenda which had the problem of security at its center.
The Conference witnessed above 90 participants coming from various parts of the country. The following dignitaries became the part of this grand event;
Prof. Omprakash Mishra
Prof. Sanjay Kumar Jha
Dr Imankalyan Lahir
Dr Vijay Kumar Das
Dr Sukalpa Chakrabarti
Dr Chayanika Deka
Shri Seshadri Chari
Lt. Gen. D B Shekatakar
Shri Tobby Simon
Dr. William Nunes
The conference was divided into Nine Technical Sessions and eminent academics, think tanks and journalists have chaired these technical sessions. The conference ended on 16th September, 2018 with valedictory which was address by Shri Seshadri Chari and Prof. Sanjay Kumar Jha. At the end, Dr. Aruna Kumar Malik concluded the magnificent Conference with his insightful and responsive speech.
Distinguished Ambassador Lecture Series on "Understanding National Power" Address by H.E Ambassador Mr. B S Prakash, Ambassador of India to Brazil (03 August, 2018)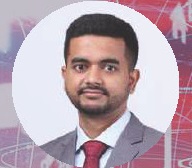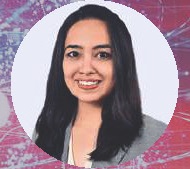 The Centre for Foreign Policy organized the distinguished Ambassador Lecture Series at GNLU. His Excellency Ambassador Mr B. S. Prakash delivered thought provoking and mesmerizing lecture on 'understanding the concept of national power'. His Excellency addressed numerous issues of international relations and it is not easy to explain the meaning of 'Power', more particularly in the context of human relations. We are encountered with many different explanations in various disciplines. Even within a single social discipline, Power is defined in several different dimensions. Mr Ambassador also covered a wide range of explanations starting from economic power, military power, stability, weight, technology and soft power. The three forms of national power are inseparable from each other. Without economic power no nation can develop her military power, and without the latter no nation can play an active role in international relations.
In nutshell, it was a brilliant exposition on international relations and power structures, power games, power politics and parameters. The students were actively involved in the discussion and exchanged fresh ideas of power and its ranges by asking questions and responding to the queries.
Distinguished Ambassador Lecture Series on 'Indo-Japanese Bilateral Relations for a Peaceful and Prosperous World and Asian Order' Address by H.E Ambassador Mr. Sujan Chinoy, Ambassador of India to Japan (26 June, 2018)
Distinguished Ambassador Lecture Series on 'Indo-Japanese Bilateral Relations for a Peaceful and Prosperous World and Asian Order' Address by H.E Ambassador Mr. Sujan Chinoy, Ambassador of India to Japan at Vitan- II, Third Floor, Administrative Block on 26th June, 2018 at 11:00 AM.
GNLU organized Credit Course on Intelligence and National Security from 8-10 September, 2017
The lecture commenced with the Welcome Address by Prof. (Dr.) Bimal N. Patel, Director of GNLU who explained the importance of intelligence and security to national security. He also emphasised on the critical importance of intelligence in the national security doctrine, practice and approaches.
The course on Intelligence and Security was designed to introduce students and practitioners to the increasing role that intelligence plays in contemporary national security. It will provide basic understanding of what intelligence is, role of its agencies followed by discussion on the concept of security, national security while exploring the nature of contemporary threats that pose challenges to the state. It will also investigate on the responses and choices policy makers are forced to make. The course aims to provide students a deeper appreciation of the nuances of security, threat assessment and role and importance of intelligence.
Course Faculty include:
Mr. D.C. Pathak, IPS (R), Former Director, Intelligence Bureau and Chairman of the Joint Intelligence Committee
Mr. Rajiv Mathur, IPS (R), Former Director, Intelligence Bureau and Chief Information Commissioner of India.
Mr. A. B. Mathur, IPS (R), Former Secretary Security and currently Member of National Security Advisory Board.
Mr. Ashok Prasad, IPS (R), Former DGP (J & K) and currently Advisor to MHA
Mr. Jaideep Saikia, South Asian security and terrorism expert and author of several books.
The course covered lectures and discussion on the important issues like, Intelligence: Key Concepts and Debates, Regionalism, organized crime and other threats to Security, India's Security Setup Session, Threat from China and Neighboring states Challenges to National Security, Cross Border and Faith Based Terrorism, Migration and Refugee, Naxalite and Left Wing Extremism, Insurgency in the North- East, Threat of Radicalisation. The course was able to draw 50 participants especially student from various universities across the state and the country besides officers. The participants befitted from the n the vast experience and knowledge of the Resource persons, who could capture the importance and relevance of the issues with their practical experience.
Address by His Excellency Ambassador (Retd.) Mr. Rengaraj Viswanathan Former Ambassador of India to Argentina, Uruguay and Paraguay on 'Latin America and Indian Foreign Policy' on 13 July 2017
GNLU organized the Ambassador Lecture Series on 13 July 2017 which was graced by His Excellency Ambassador (Retd.) Mr. Rengaraj Viswanathan, Former Ambassador of India to Argentina, Uruguay and Paraguay. The title of the lecture was 'Latin America and Indian Foreign Policy'.
Perhaps it was fitting that the ambassador to Paraguay, Uruguay and Argentina would begin his address to the faculty and students of Gujarat National Law University by talking about how passionate he was about Latin America. Indeed, his appreciation and respect for a vibrant culture of living life to the fullest was implicit in the warmth with which he spoke of those countries.
HE Mr R. Viswanathan, the first Indian Consul General in Sao Paulo as well as the Head of the Ministry of External Affairs' Division on Latin America and the Caribbean, highlighted the similarities and differences between lawyers and diplomats. The contrasting but contextually successful beliefs in argument for the former, and agreement for the latter. It struck a chord of instant rapport with a room full of aspiring lawyers and law students – no doubt, a hallmark of a diplomat - setting the ground for an exposition of instances where there is a confluence of work and cooperation – in negotiations, treaty-making and as an alternative resort in international courts and tribunals.
During the lecture, he detailed a unique history of cooperation and trade that India, particularly Gujarat, and Latin America have shared. Beyond the framework of imports and exports, there has also been sharing of culture and values by people such as Harivardhan Shah who set up the Gandhi Peace Foundation to spread Gandhian ideals of non-violence in Medellin.
Overall, HE Mr Viswanathan emphasised the unrealised potential of soft diplomacy, especially with Latin American countries whose potential as allies have been underestimated due to their geographical distance. He then laid down a brief history of how India and Latin America have benefitted over decades through mutual trade of goods, services and ideas, including yoga and the IT industry which has overcome a traditional barrier of business - distance.
He hinted at the perfect complementarity between India and Latin America in terms of resources and trade opportunities. According to him, shifting oil imports from the Middle East to Latin American countries, such as Venezuela, could turn out to be a mutually lucrative opportunity. Latin America holds a vista of opportunities for collaboration with India in areas such as crude oil, pulses, and technology to boost agricultural productivity. There are immensely beneficial prospects of continuing relations with Latin America and he concluded by saying it is time for India and Latin America to take their romantic relationship a step further.
Address by His Excellency Mr. Ashok Sajjanhar on 3 October 2016
GNLU organized the Ambassador Lecture Series on 3 October 2016 which was graced by His Excellency, Mr. Ashok Sajjanhar, Former Ambassador of India to Kazakhstan, Sweden and Latvia. The Lecture Series was organised in collaboration with the Ministry of External Affairs, Government of India.
The lecture commenced with the Welcome Address by Prof. (Dr.) Bimal N. Patel, Director of GNLU who expressed his gratitude to the Ministry of External Affairs, Government of India for collaborating with GNLU.
H.E. Mr. Ashok Sajjanhar addressed the gathering on the WTO and Multilateral Negotiations calling on his breadth of experience as the former Ambassador of India to Kazakhstan, Sweden and Latvia. After engaging students on the history of the WTO and the several negotiation rounds that have taken place since the Bretton Woods Conference. Shri Ashok Sajjanhar spoke about the stance that India has taken in the past across all these rounds culminating into what is know as WTO. He spoke about the barriers India initially put in place to prevent foreign intervention and regulation in the market and described in great detail the factors and forces that led India opening of the market.
He also emphasised on the manner that international organisation function where developed countries imposes the result on the developing countries. It was expected that the developed countries would extend support to developing countries, but the economic crisis in the west witnessed the west adopting protectionist measures too. However, despite the difference India need to participate in these rounds and negotiations not only to safeguard its interest but also receives global attention as an expanding economy. He highlighted that a stronger stance must be decided upon and stuck to at multilateral negotiations – which was previously done for textiles and the Multi-Fibre Agreement, as well as the Pharmaceutical and Process Patents. India like its stand on NPT should evolve its foreign policy in terms having clear position on issues of self-interest by defining what we need to safeguard, decide our interest area and where it lies and follow it up. The core strategic interest must be taken care of.
In answering questions, Shri Sajjanhar engaged with students about the Trans-Pacific Partnership and its impact on the Asian economies, as well as the efficacy of anti-dumping policies that India has used against China.
Address by His Excellency Mr. Liu Jinsong, Charge d'Affaires, Embassy of the People's Republic of China in India on 31 August 2016
GNLU organized the Ambassador Lecture Series on 31 August 2016 which was graced by H.E. Mr. Liu Jinsong, the Charge d'affaires and DCM, Embassy of the People's Republic of China in India and was accompanied by Mr. Ai Longfei, Education Officer, Education Department; Mr. Tu Pengfei, Third Secretary, Economic & Commercial Counsellor's Office and Mr. Ren Hao, Attache, Political Section. H.E. Mr. Liu Jinsong delivered the lecture as part of the Ambassador Lecture Series.
The Lecture Series commenced with the Welcome Address by Prof. (Dr.) Bimal N. Patel, Director of GNLU in which he emphasised on the importance of peaceful co-existence mechanism between India and China that existed since the 1950s. Peace, development and winwin co-operative representation are unstoppable trend and Asia holds a uniquely important position in the pursuit of world peace and development. He expressed that since Asia shares many commonalties, hence its time that India-China strengthen the foundation for exchange and mutual learning and that is where the academic institution will play a major role. He also expressed his views about that peaceful co-existence of the two countries in matters of trade, development etc. in the 21st Century. This co-existence should not just be at the governmental level but also at the people-to people level. And this can happen only when academic institutions and people at large contribute in strengthening the relations between these civilizations. H.E. Mr. Liu Jinsong, in his address stated that although law is difficult to study, he stressed on the importance of law. The founding fathers of independent India such as Gandhi, Ambedkar and Patel were all students of law and so also current politicians such as Jaitley and even Xi Jinping and the Chinese Premier.
He shared that exchange on legal issues began since a long time ago through the exchange of Buddhist teachings. Xuanzang and Faxian have come to India and learnt a lot about the Gujarat National Law University Gandhinagar, Gujarat, India, Attalika Avenue, Knowledge Corridor, Koba, Gandhinagar, Gujarat, India – 382007 Ph: +91-79-23276611/12,Fax:+91-79-23276613, Email: contact@gnlu.ac.in, Website: www.gnlu.ac.in discipline of Buddhism and spread it in China. He disagreed with the statement that law comes from western texts, in fact, law evolves from our civilizations. Criminal laws, civil laws and judicial laws come from South East Asia. Indian, Chinese and Islamic legal systems are the most important in the evolution of law.
He also shared that Indo-China relations rest on five principles of peaceful co-existence - the Panchsheel. World affairs should not be dominated by one or two countries; rather there should be promotion of the spirit of equality. He further said that although BRIC countries have major shares in global GDP and trade flows, there is a lack in proportional share in voting rights at IMF and other international organizations. The boundary disagreements between the two countries can be solved by diplomacy only and existing agreements at the Line of actual control should be implemented. The similarities between India and China outnumber the differences and hence there is a need to focus on bilateral relation and friendship.
Mr. Jinsong further stated that the Chinese sovereignty over the island has solid legal and historical basis while addressing the South China issues. He said that the current conflict is in violation of Philippines and China treaty and the Tribunal is not an official UN organization or ICJ body currently and hence the decision is illegal and invalid. He laid stress that bilateral negotiation is the only way to solve this issue.
After the Lecture series, Mr. Jinsong and the Chinese delegates also interacted with the faculty members and the students. This Lecture Series and the visit of the Chinese delegation at GNLU has been a successful one and one can hope for more collaborations academically between GNLU and the Chinese Universities.
The Centre for Foreign Policy and Security Studies, Gujarat National Law University in collaboration with the Indian Council of World Affairs, New Delhi organised an international conference On "India's Foreign Relations - Southeast Asia and the Indian Ocean: Strengthening the Political, Economic, Security and Cultural Prospects" 12-13 September 2014
The Centre for Foreign Policy and Security Studies, Gujarat National Law University in collaboration with the Indian Council of World Affairs, New Delhi organised an international conference On "India's Foreign Relations - Southeast Asia and the Indian Ocean: Strengthening the Political, Economic, Security and Cultural Prospects" 12-13 September 2014.
With the changing international scenario in terms of the level of economic, social and military development, the foreign policy also has to orient and re-orient itself to provide appropriate external environment conducive for the growth and stability of a country. Further, challenges arise in pursuing foreign policy from conflicts at international level as they can't be eliminated from the international society as continuation of conflicts constitutes the essence of international politics. As far as Southeast Asia in India's foreign policy is concerned, the objectives appear to be three-fold: One, to institutionalize linkages with ASEAN and its affiliates; two, to strengthen bilateral relationships with member-states of ASEAN; and three, to carve a niche for itself in Southeast Asia both politically and economically. Furthermore, the UN General Assembly resolution in 1971 declaring the Indian Ocean "for all time as a zone of peace" and latter in September 1970, the Lusaka Conference of the nonaligned countries adopted a declaration "calling upon all states to consider and respect the Indian Ocean as a zone of peace from which great power rivalries and competition as well as bases conceived in the context of such rivalries and competition, either army, navy or airforce bases, are excluded." Given this background of Indian Ocean, it is significant to address some of the critical questions and also make attempt to find out the problem and prospects of the Indian Ocean.
The seminar was inaugurated by General (Retd.) V.K Singh, Minister of state of External Affairs and the guest of honor was Lieutenant General D B Shekatkar, PVSM, AVSM, VSM and Professor Dr.Bimal Patel, Director of GNLU.
Dr. Aruna Kumar Malik started off the two day conference with his inaugural speech emphasizing on the significance of the conference for which GNLU have received over 81 abstracts from India, Bangladesh and Sri Lanka.
Dr. Bimal Patel addressed the gathering stating various important aspects related to the Indian Foreign Policy. And also briefly described the achievements of GNLU in this calendar year which included drafting of various laws for the Govt of India, introduction of the Microsoft IPR chair in the University, training of over 300 officers through the continuous workshops conducted in the University.
Lieutenant General D B Shekatkar, PVSM, AVSM, VSM , a distinguished soldier and commander with a vast experience in combating insurgency in Jammu and Kashmir and the Northeast graced the occasion with his address. He spoke with a certain concern for the young generation and also explained the need for sustainable development for the 'Young Dear Students'. He empahsised on India's role in the new emerging world order. Further, he expressed the various threats which is prevailing in the space and the sea and why the study of the same will help in the betterment of the Nation as a whole. As he said, 'Anyone who will control the sea and the space will control the world'. So basically in his opinion, the foreign policies should be designed with an inclination to the national interest. His speech ended with the inspirational quote 'dreams are those which doesn't let you sleep'.
Mr. Asit Singh (IRS – 1990 Batch) discussed various projects which are being undertaken by the government of India which included construction of highways which will connect India with Burma and Thailand. He also, discussed the importance of modern infrastructure for strengthening India's Foreign Relations.
The Chief Guest General(Retd) Vijay Kumar Singh, PVSM, AVSM, YSM, presently the Minister of State of External Affairs and Minister of State (independent charge) for North East Region, in the National Democratic Alliance government lightened up the mood by praising the campus research facilities and the ongoing projects. He also, shared his immense experience with the audience over the ministry affairs and the functioning of the army. Although not considering himself as a professional politician he is confident that the new government has clear motives and promises to deliver – which can be seen with the work done in the field of Foreign Policy within a short span of time. He also, added that there is also a sensitive side to the foreign policies which is being disturbed quite often and the reason for that being nothing but poor deliverance. Importance of the north-eastern states was emphasised and the efforts by the government is to undertaken various projects in the region so as to uplift them to the minimum level of trade and industries domestically as well as with the neighbouring countries.
The inaugural session was followed by a panel discussion. The keynote address was presented Mr Sheshadri Chari, Secretary-General, Forum for Integrated National Security. The other speakers were Dr. Vijay Sakhuja, Director, National Maritime Foundation, New Delhi; Dr. V. Sanjeevan, Former Director, Ministry of Earth Sciences, New Delhi; Prof. P.V. Rao, Director, Centre for Ocean Studies, Osmania University, Hyderabad; Dr. Shamshad Khan, Research Fellow, Indian Council of World Affairs, New Delhi.
The Conference was divided into 4 sessions spanning 2 days. In all there were about 120 participants from all over the country. About 40 papers were presented by participants.
The first session focused on the past, present and future of the look east policy. The speakers highlighted that the look east policy can be effected by better and larger cooperation between nations on several issues such as maritime security, humanitarian and disaster relief, terrorism , cross border trade etc. This will enable them to establish goodwill and revive the look east policy with futuristic modifications. The modifications can be brought about by increasing partnerships in the IOR which has been gaining increasing prominence.
The parallel session saw papers with a focus on special nations among India's partners like China, Nepal, Japan, Paklistan etc. there were interesting presentations which focused on China's impacts in the region and its effects on India's partnerships with nations. The speakers concluded that there is a need for all partners to converge on issues of importance. The speakers then focused on specific issues like smuggling and trafficking and its rise in the Indian Ocean and thus the need for countries to engage. A very pertinent issue of water and diplomacy in the SAARC region was brought to the forefront in this conference.
The next topic was India's responsibility with respect to its IORA members and the need to counter China's growing influence in the region. Various suggestions ranging from cooperation with China on issues of common interest like security and strengthening India's presence in ASEAN or increase economic cooperation in the IOR.
The parallel session focused on India's influence as a strategic partner in ASEAN with a special focus on partner nations like Myanmar, Bangladesh etc. Such nations can be used to establish a link between India and ASEAN to solve priority issues related to energy. The underlying theme had been the need to revisit our policies relating to the North East. Engagement with the North Eastern Regions can emerge as a breakthrough for recognizing India's economic potential and solve its security issues.
The second day saw the conference focus on issues like promotion of cultural aid and IT diplomacy as new options. The speakers highlighted the role of China which is merging as global centre of power. China's grasp on the region now ranges from the Himalayas to the Indian Ocean. Thus the best way to find any solution is to look at India and China's relation in the light of the IOR.
The last session focused on maritime security and threats in the IOR like piracy and energy diplomacy. The papers gave an example of Malacca Straits and its effects on the energy flows. The trade flow in IOR amounts to 2/3 of total world flows. The issue of piracy is of extreme importance which had emerged in the IOR due to groups in Malaysia and Indonesia. This needs to be resolved with a partnership among littoral states. Another important issue is energy transportation which takes place mainly through the Indian Ocean. India has a diversified energy requirement ranging from oil, natural gas and uranium for which it needs to wider cooperation.
The conclusion arrived at from the fruitful discussion in all these sessions is that there is a need for India to increase security in the IOR so that its economic, political and diplomatic interest are maintained along with that of its partners. This can be done through new ways using tools of culture, IT etc. which can help to revive the Look East Policy.