Two-day Workshop on the topic "Gender, Sexuality, Law, and Diversity" (June 2020)
The Centre organized a workshop on 15th and 16th June, 2020 on the topic "Gender, Sexuality, Law, and Diversity" in collaboration with the Centre for Studies in Gender & Sexuality, Ashoka University. The workshop was a nuanced discussion on gender and dealt with issues pertaining to sexuality and diversity, consent and sexual harassment across multiple areas with special reference to the different aspects of law involved.
Webinar on "Migrant Labour Crisis and issues in contemporary India" (May 2020)
A webinar was conducted by the Centre on 8th May, 2020 on the topic, "Migrant Labour Crisis and issues in contemporary India". The invited speakers for the same were Professor Sophy Joseph, National Law University-Delhi, Ms. Aditi Ratho, Junior Research Fellow – Observer Research Foundation and Mr. Umi Daniel, Director- Migration and Education, Aide et Action.
Webinar on "Empirical Research in Legal Policy: Skills and Prospects" (May 2020)
A Webinar titled "Empirical Research in Legal Policy: Skills and Prospects", was conducted on May 19, 2020. It was an initiative by GNLU Research and Publication Division, GNLU Department of Alumni Relations, GNLU Centre for Law and Society in collaboration with Vidhi, Centre for Legal Policy. The invited speakers for the same were Prof. (Dr.) S. Shanthakumar, Mr. Alok Prasanna Kumar, (Senior Research Fellow, Team Lead Vidhi, Karnataka), Ms. Tarika Jain and Ms. Chitrakashi Jain, both from the Vidhi Centre for Legal Policy.
Two-day Webinar Series in collaboration with Legal Aid Clinic, Jindal Global Law School (May 2020)
The Centre in collaboration with the Legal Aid Clinic, Jindal Global Law School held a two-day webinar series on the 26th and 27th of May 2020. The topics on both the days were of a contemporary nature. The webinar on the first day was conducted on "Shadow Pandemic; Challenges to women and sexual minorities" where the invited speakers were Mx Vikramaditya Sahai (Associate, Centre for Law and Policy Research), Dr. Bharti Sharma (Founder, Shakti Shalini) and Prof. Dr. Sourav Mandal (Professor, Jindal Global Law School). While on the second day the webinar was conducted on "Social-Emotional well-being in times of COVID 19" for which the speakers were Ms. Smruti Mirani (Founder, CounSEL) and Ms. Ishita Gupta (Founder, Breakthrough Counseling). Both the sessions were moderated by Ms. Apoorva Patel (Head GNLU Centre for Law & Society & Assistant Professor of Social Work).
Open House with Mr. Nitin Sangwan (March 2020)
The Centre had organised an Open House Lecture delivered by Mr. Nitin Sangwan, Assistant Collector Veraval, (Indian Administrative Services Officer) on 4th March, 2020. He delivered a lecture on the topic "Issues and Challenges for UPSC Aspirants". He also talked about the significance of Sociology as an Optional Paper for Civil Services Examination.
Sensitization Workshop on Transgender Rights (February 2020)
The Centre had organised a Sensitization Session in collaboration with Vikalp, a not-for-profit women's group and SAATHII (Solidarity and Action against the HIV Infection in India) on 11th February, 2020. The session was organised in light of the indispensable need for broader and more inclusive gender sensitization programs. It was attended by faculty members along with students of GNLU.
Release of India Justice Report (February 2020)
The India Justice Report which ranks individual Indian states in relation to their capacity to deliver access to justice was released on 8th February, 2020 in GNLU by TATA Trusts. Along with the release of the report, four round table consultations were conducted with stakeholders from the four pillars of access to justice system: Judiciary, Legal Aid, Police, and Prison.
International Conference on Social work, Law and Human Rights (February 2020)
The Centre had conducted a two-day International conference on Social work, Law and Human Rights on 1st and 2nd of February, 2020 which witnessed a massive participation which included more than 100 paper presentations and around 20 academicians attending the conference. The inaugural and valedictory ceremony was graced by dignitaries like Justice Vikram Nath, Hon'ble Chief Justice of the Gujarat High Court, Prof. Sanjai Bhatt from NAPSWI and Dr. Kishore Singh, Former UN Special Rapporteur on the Right to Education. Over the two days, 3 Plenary Sessions were conducted where a total of 12 resource persons such as Prof. Vijay Raghavan from TISS, Mr. Amod Kanth, IPS, Prof. Esther Coren from Cantebury Christ Church University, UK and Dr. Anezka Sebek from Parsons School of Design, New York were invited. Along with it, 12 concurrent thematic sessions on the ten themes of the Conference were conducted; where 24 resource persons from institutions such as Central University of Gujarat, TISS and University of Delhi were invited as Chair and Co-Chair to evaluate the paper presentations.
Public Lecture by Hon'ble Mr. Justice M. R. Shah (January 2020)
The Centre had organized the first public lecture under the aegis of the GNLU- Navinchandra Desai Law Foundation Chair on the topic "Challenges faced by the Indian Judiciary" delivered by Hon'ble Mr. Justice M. R. Shah. The lecture was delivered on January 11th, 2020 in the presence of the trustees Mr. Prashant Desai and Mr. Pranav Desai. It was attended by the alumni who have passed the Judicial Services Exam and were felicitated by Hon'ble Mr. Justice M. R. Shah, members of Gandhinagar Bar, faculty members, students and media persons.
Open House with Mr. Gautam Bhatia and Mr. Apar Gupta (January 2020)
An Open House session with Mr. Gautam Bhatia and Mr. Apar Gupta was conducted on the topic "State of Constitutionalism in India" on 13th January, 2020. It was aimed to be an interactive discussion with students in view of the recent constitutional issues such as transformative constitutionalism, legality of internet shutdowns, CAA-NRC and its impact on constitutionalism.
The Celebration of Diversity (October 2019)
On 2 October, 2019 GCLS in collaboration with GNLU Committee for Persons with Disabilities conducted 'The Celebration of Diversity.' Dr. Amita Dhanda delivered a keynote address on Gandhian Thought and Diversity and inaugurated the GNLU Centre for Disabilities Studies. Further, the Dialogue in the Dark event aimed to make the audience 'empathize' where the audience experiences darkness and tries everyday tasks without their sense of sight.
150 years of celebrating the Mahatma - Panel Discussion on Gandhian thought on Law and Justice (September 2019)
To celebrate the 150th birth anniversary of Mahatma Gandhi, a panel discussion was organised on 20 September, 2019 to discuss the essence of the foundational principles of Gandhian ideology and its relevance in the contemporary issues of legal system in India. The discussion featured Prof. Vidyutkumar Joshi (Former VC, MK Bhavnagar University), Mr. Satya Narayan Sahu (Press secretary to former president of India), Prof. Pradeep Mallik (Associate Prof., PDPU), Dr. Dhananjay Rai (Assistant Professor, Central University of Gujarat)
Dialogue in the Dark: 'See' the World of the Visually Impaired (8th April, 2019

GNLU Committee for Persons with Disabilities (Divyangjan) (GCPWD), in collaboration with GNLU Centre for Law and Society (GCLS) organized Dialogue in the Dark: 'See' the World of the Visually Impaired' on Monday, April 8, 2019.
The eminent speaker of the event was Mr. Amar Jain, who is currently working as an associate at Cyril Amarchand Mangaldas, where his primary focus lies in capital markets. The session began with Mr. Amar Jain sharing the story of his life with the audience, a tale of overcoming linguistic and accessibility barriers with unshakeable belief, tracing his journey with a determination to learn and achieve academic excellence and scholastic brilliance with hard work and a never-say-die attitude. He emphasized on how disability is merely a matter of perception, and advised everyone present, to concentrate on things that their disability doesn't prevent from doing well, and not to regret the things it interferes with. He is truly enabled by the firm conviction and determination he holds. His way of dealing with his challenges has opened up unique opportunities to reach so many in need.
The second part of the session 'Dialogue in the Dark', was to immerse the audience in the world of the blindness and let them explore the dark without using the sense of sight. The major highlight of this activity was experiencing darkness all around in an entertaining way. Everyone ate in the dark, guessed everyday objects by touch and smell, and came out with a sensitizing takeaway, teaching all present that it is important to 'emphasize' rather than to 'sympathize'.
The event was graced by the presence of Professor Dr. Bimal N. Patel, Director GNLU, who also shared his experience at the end of the session. In his words, "a lot of people have physical or mental challenges in life, how do one deal with it is important". He also emphasised on how technology has played a vital role in empowering persons with disabilities. He also reiterated GNLU's commitment for the betterment of persons with disabilities.
The session concluded with the Vote of Thanks being proposed by Mr. Marisport, Assistant Professor of Law thanking the guests, the faculty members, and the students of Social Work for their presence. This event will forever be cherished by all the attendees as a perennial source of motivation, to work in the best of their capacity to make this world more inclusive.
Skype Lecture on "Issues in LGBT+ Rights in the US after Equal Marriage" (27th March 2019).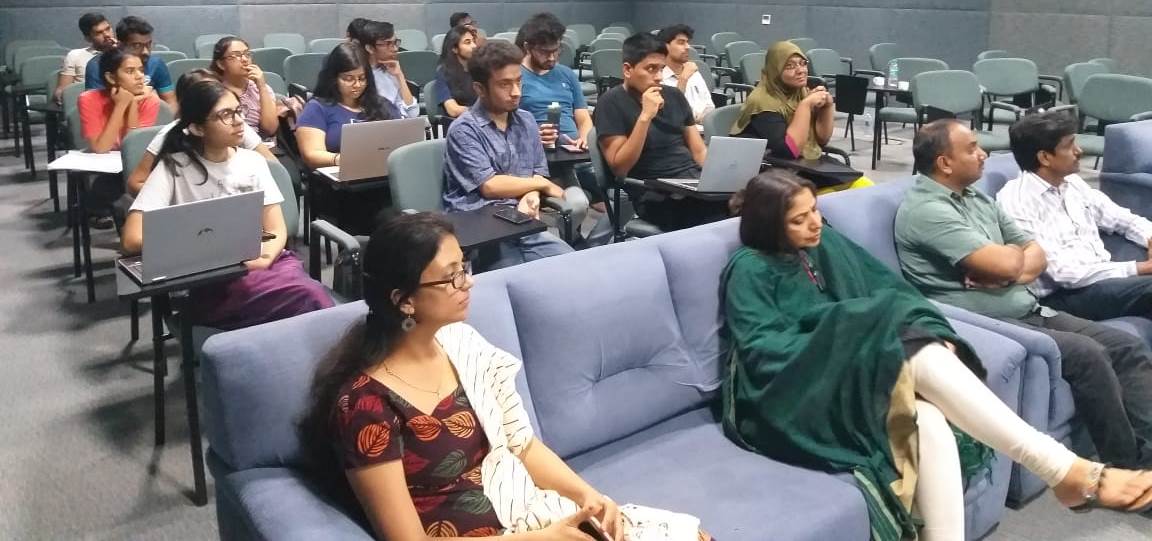 The Gujarat National Law University organized lecture with Prof. K. J. Surkan, on the 27th of March, 2019.
The lecture, conducted via Skype, saw Prof. Surkan deal with the topic of 'Gender (In) security: Surveillance, Gatekeeping, and the contemporary politics of Identity management'. Prof. Surkan began the lecture by exploring the changing depiction of Trans figures in mainstream media of 20th and 21st century. This exploration brought out the way in which the mainstream has showcased a more non-binary view of gender in day to day lives. The changing dynamics, as Prof. Surkan noted, left us with the question of whether more representation in mainstream media leading to more visibility of non-binary genders actually causes in less discrimination or does it result in increased scrutiny of non-binary gender types.
Prof. Surkan then explored the intersection of transsexual identity and the surveillance state. Quoting from works such as Talia Mae Bettcher's 'Evil Deceivers and Make-Believers: On Transphobic Violence and the Politics of Illusion' and Toby Beauchamp's 'When Things Dont Add Up: Transgender Bodies and the Mobile Borders of Biometrics', Prof. Surkan adeptly established the trans identity's collective position in today's age of 'liquid surveillance' – placing great emphasis on David Lyon and Zygmunt Bauman's work of the same name.
Prof. Surkan talked about the viability of strategies employed in opposition to the bill and engaged in an intriguing discussion to end the lecture. The lecture was followed by Prof. Surkan entertaining questions on the relation between the works of Sandy Stone and Donna Haraway and discussing the formation of the trans identity in light of the NALSA judgment of the Supreme Court of India.
The lecture was organized by the GNLU Gender and Sexuality Forum in collaboration with the GNLU Centre for Law and Society.
Blood Donation Camp (19th March, 2019)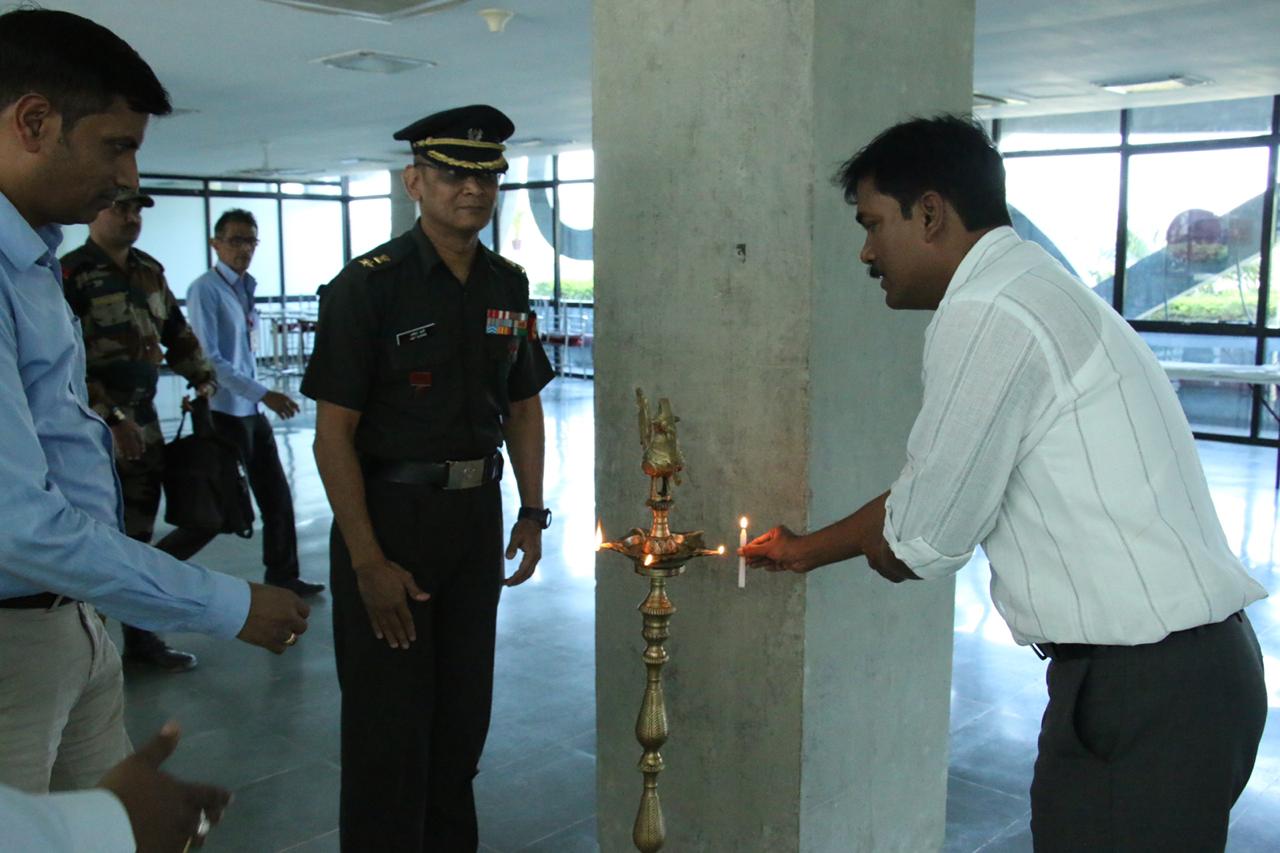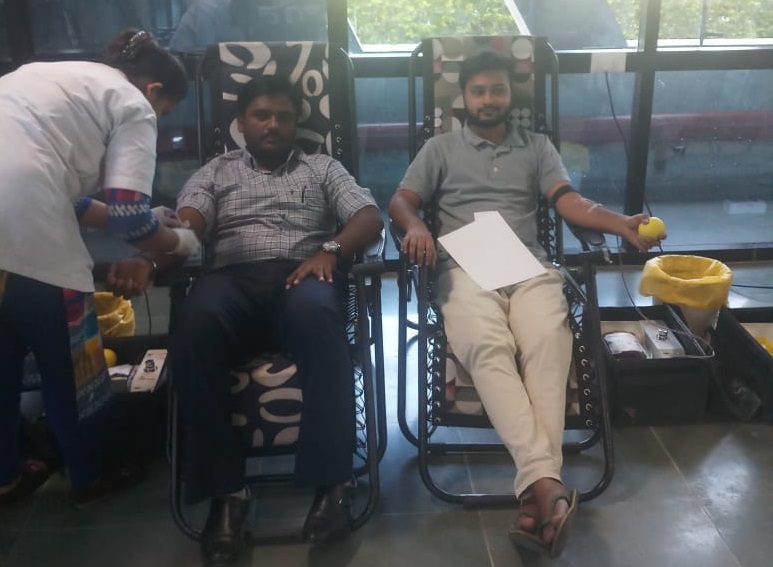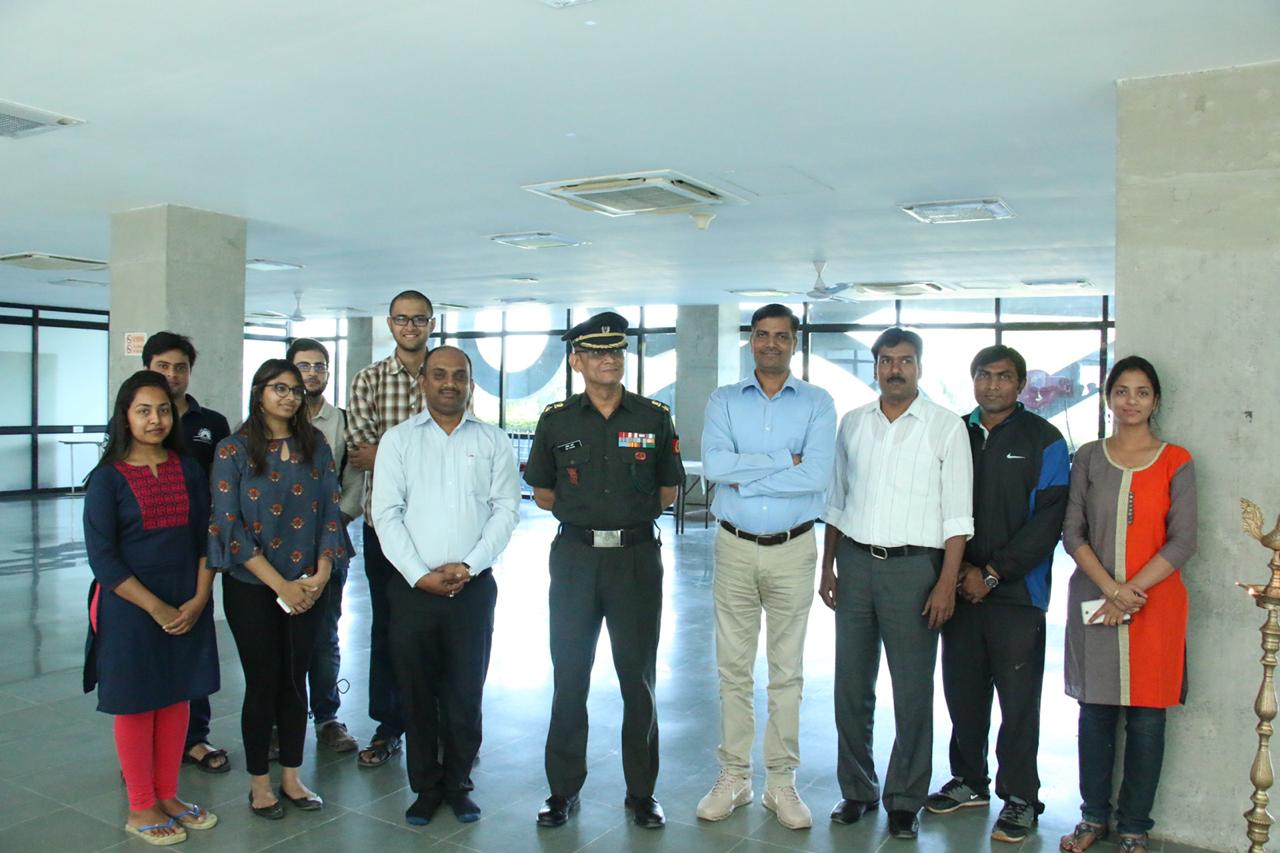 The Gujarat National Law University (GNLU) Legal Services Committee under the aegis of the GNLU Centre for Law and Society organised a blood donation camp on 19th March, 2019 in collaboration with the Indian Red Cross Society, Gujarat and NSS in the GNLU campus. The Camp was organised to promote the noble cause of donating blood in order to make it available to those in critical need of it.
The Camp was inaugurated at 3:00 p.m. with a lighting of the lamp by Colonel Amit Sharma, Commanding Officer, NCC Gandhinagar, Dr. Jagadeesh Chandra, Registrar, Dr. R.K. Singh, Dean of Academic Affairs, and Dr. Saurabh Anand, Centre Director of the GNLU Centre for Law and Society. Colonel Amit Sharma congratulated the Legal Services Committee on organising an important event such as this and wished the team the best.
The preparations for the Camp began a week prior to the actual date of the event. Students conducted awareness drives in Koba and in GNLU and stuck posters regarding the same in and around GNLU. On the day of the Camp several enthusiastic donors lined up well before the event was to start. Deputy Registrar Dr. Avinash Bhagi was among the first to donate. Two doctors and close to 15 volunteers facilitated the blood donation. Donors were asked to fill out extensive medical histories prior to donating, and were provided with juice and biscuits post donation. As the blood donations continued over the course of the evening, over 100 people from GNLU and the surrounding areas donated.
Open Session on "Constitutional Morality & the Supreme Court of India: An Analysis in light of the judgments on 377, Sabarimala and Adultery" (23rd February 2019)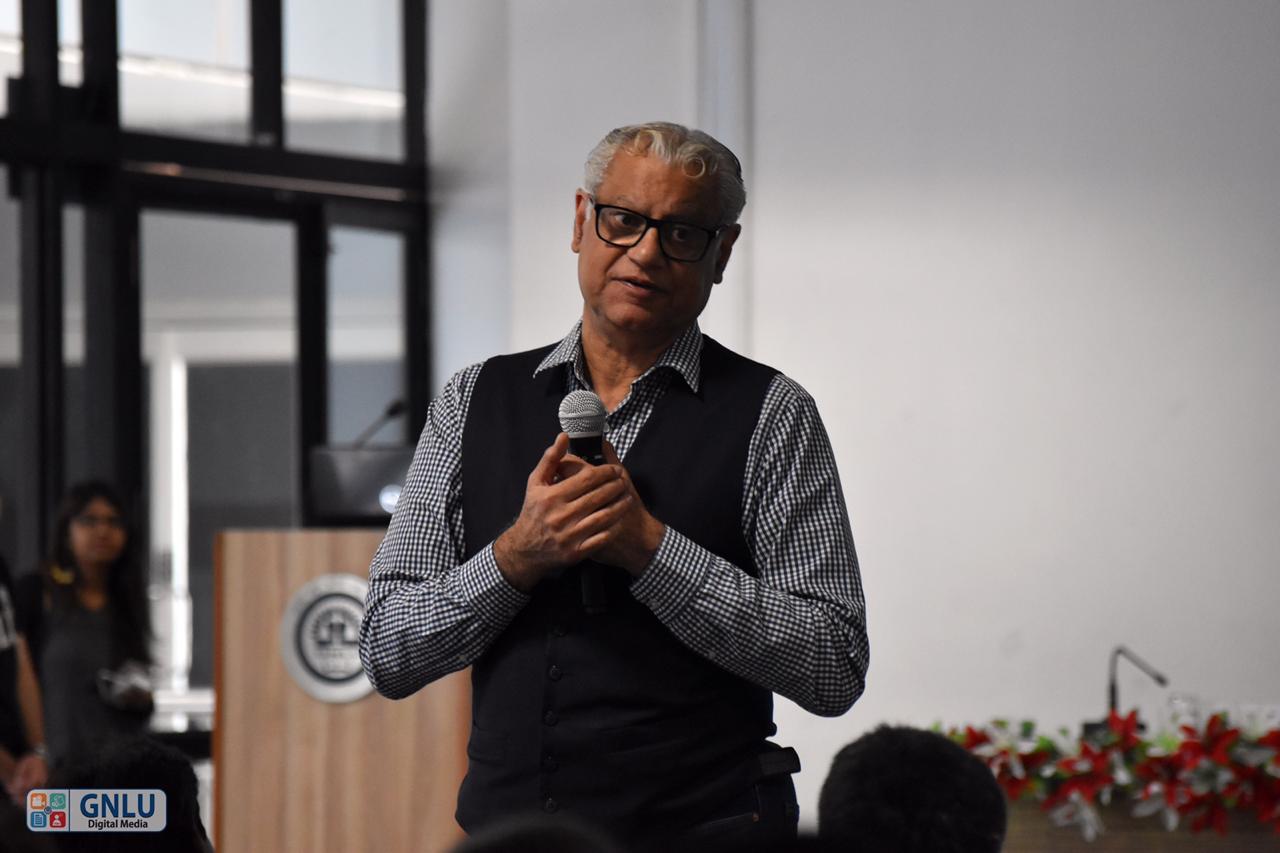 "Anand Grover at GNLU: Laws must be based on Dignity" - He gave an example of how inclusiveness results in dignity, and how the presence of transsexuals or transgenders in a university would improve their treatment. He also gave examples of what constitutes 'dignity' and how 'the use of terms such as prostitutes for sex workers amounts to being undignified as well as passing judgment on an occupation'. The discussion focused around laws currently applicable in India and the morality therein, with Mr Grover noting that the same is imported as a result of colonialism, in certain instances, giving an example of Section 377.
Open House on "Education and Non-Violence"
GNLU Centre For Law And Society organised OpenHouse on 14th February 2019 on the theme "Education and Non-Violence". The speaker was Prof. Binod Kumar, Visiting Research Fellow at the Human Rights Center, University of Dayton. As a former member of the mechanical and aerospace engineering program at the University of Dayton Research Institute and the School of Engineering, he has to his credit more than 100 research publications and 15 patents. In the midst of his 34-year-long career as a researcher, Binod Kumar's trip to Vaishali in India changed his orientation towards life. Vaishali, long considered the birthplace of democracy, peace and nonviolence movements, made him ponder about the virtues of nonviolence. (PFA for Photographs "Open House on Education and Non-violence")
Workshop on " Building Consent Culture: Preventing Sexual Harassment"
The Centre for Law & Society at Gujarat National Law University, Gandhinagar organized a one-day workshop on Building Consent Culture: Preventing Sexual Harassment on Monday, February 11, 2019. This was conducted in collaboration with Partners for Law in Development (PLD) by Ms . Prashastika Sharma, and Ms . Deepa and Ms . Roshni from Anandi.
Partners for Law and Development is an NGO based in Delhi which works closely on Human Rights law related to women. They routinely conduct workshops on the theme of Consent in Sexual Relations in various colleges and Universities across India. Anandi is a grassroots organization in Gujarat working on similar themes. In furtherance of its objective to initiate dialogue on sexual consent, the Centre for Law and Society organized this workshop, which started off with an activity of writing down words which one could think of related to "Consent" and "Rejection". The audience was shown Case Studies which emphasised the importance of explicit consent, the lack of which could lead to emotional stress.
The audience then shared a few instances they knew wherein sexual consent was assumed by one person which in turn caused fear and shame for the other person involved in a relationship. The workshop quickly moved on to an interactive discussion on themes of usage of power in workplaces and peer pressure in forming relationships. There was a debate on gender-neutral rape laws wherein a few felt a gendered law is the need of the hour since rape is a particularly gendered crime. The audience also raised questions on ways to respond to situations involving usage of power hierarchy to coerce a person into sexual relations in a workplace, the role of Internal Complaints Committee and healthy coping mechanisms on facing rejection. A small activity was conducted wherein a few situations involving intimacy were described and the audience was asked to reflect on the same and respond how comfortable or uncomfortable they would be in such scenarios.
3rd GNLU Annual Legal Services Forum
The Legal Services Committee under the aegis of the GNLU Centre for Law and Society organised its 3rd GNLU Annual Legal Services Forum, 2018 on 13th and 14th April, 2018. The two day Forum witnessed Panel Discussions and Paper presentations from over 80 participants on 5 topics: Custom v. Constitution, Working Women and Welfare, Refugees in SAARC, Right to Privacy and Social Welfare and Universal Basic Income. A special panel discussion on Acid Attacks and Disability Rights was also conducted. The Forum incorporated the "GNLU Legal Services Clinic Award 2018", a first of its kind in India, which saw participation from 6 Legal Aid Clinics across the country. It was introduced with the aim to honour and support the most impactful and meaningful socio-legal initiatives of any legal services committee/ legal aid clinic in India. This initiative seeks to encourage community engagement of contemporaneous legal services clinics, by lending monetary support of INR 40,000 to an impactful initiative. The winner of the GNLU LSC Award was Faculty of Law, University of Delhi.
The Forum concluded with the Valedictory session, graced by Mr. Anshin Desai, Senior Advocate at the High Court of Gujarat, as the chief guest, Dr. Bimal N Patel, Director GNLU, Advocate from S. S. Rana & Co. (Supporting Organisation) and Dr. Saurabh Anand, Director GNLU Center for Law and Society wherein the results of the Overall Best Paper Award and the winner of the GNLU Legal Service Clinic Award 2018 was declared. The Forum ended on a positive note to the satisfaction of having provided a critical space for discourse on pertinent contemporary issues.
Open House by Raphael Cohen Almagor
On the 8th of January, the GNLU Centre for Law and Society conducted its first Open House of 2018, inviting Prof. Raphael Cohen-Almagor (Director, MESG, School of Law and Politics University of Hull, United Kingdom) to share his views with students on the subject of "Liberalism, Tolerance and Multiculturalism: The Bounds of Liberal Intervention in Affairs of Minority Culture." It was a deeply invigorating session which introduced students to newer aspects of liberal thinking and the importance of deliberative democracy to sustain a liberal society. Prof Raphael discussed the level of tolerance prevalent in a liberal society and how any liberal democracy cannot tolerate harm to others. He also referred to the necessity of an exit principle, allowing persons to choose whether they wish to partake in a religious practice or not. He also referred to examples of closed groups such as the Bedouin Tribes as well as the Amish Christians to illustrate how often persons are forced to follow a culture in the absence of any other choice. This was followed by a detailed discussion on the abolition of headscarves in France in schools. A comparative analysis was made with the situation in other jurisdictions like Germany and Netherlands. The Professor also opened the floor to further discussion as well as an analysis of the strict secular policy adopted by France and its impact on minority rights.
Workshop on Counselling Skills in collaboration with TATA Institute of Social Science
GCLS, in collaboration with Centre for Lifelong Learning, TISS organized a two-day workshop on Counselling Skills from September 23-24, 2016. The workshop saw a participation of more than 50 participants from different professions and domains like law, psychology, forensic science, medicine etc. The workshop was conducted by Dr. Sabiha Vasi and Dr. Lata Das from Centre for Lifelong Learning, Tata Institute of Social Science.
Know Your Rights Programme in Valad
A legal awareness program was conducted by Legal Services Committee in Sheth M.S. Bhanawala High School, Valad on Tuesday, 10th October 2017. The session was conducted by Abhishek Vyas, Aashka Shah, Shashwat Srivastava and Nihal Deo. A total of 229 students from 9th and 10th standard were present for the legal awareness programme.
Abhishek Vyas started session by giving a brief introduction of LSC, GNLU. He then took few inputs from the students about their understanding of the term 'law' and talked about the importance of constitution. After which, he talked about fundamental rights and duties of the citizens.
It was an interactive session where the members continuously tried to take inputs from students on their understanding of rights and duties. Stress was laid on we as citizens not forgetting to perform our duties. Abhishek also explained Article 14 and Article 15 of the Indian Constitution by taking few interesting examples for easy understanding of students.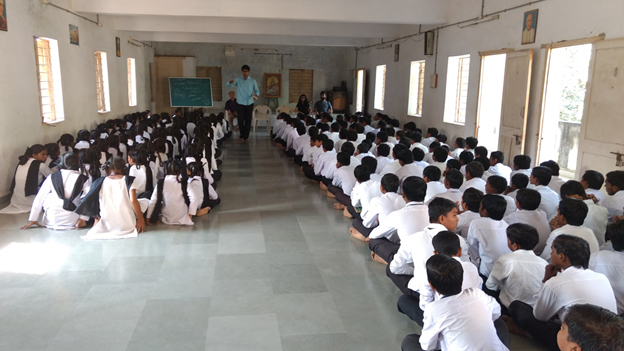 Then, Aashka Shah took over to explain the article 21 and article 21A. She explained the students why these two are so important. She made them understand that right to life includes aspects such as right to live with dignity, right to clean environment etc. She then elaborated about the fundamental duties that every citizen should perform.
Abhishek again took over to briefly throw light on the topic of consumer rights. Towards the end, students and staff members were informed about Legal Aid Clinic of Gujarat National Law University. The event ended by a vote of thanks by the Principle of the School to the Legal Services Committee of GNLU.
(Written by Nihal Deo and edited by Jayaditya Mallik)
Free Health Camp and Blood Donation Drive
The Gujarat National Law University Legal Services Committee under the banner of the GNLU Centre for Law and Society recently conducted a blood donation and health camp in collaboration with the Red Cross Chapter, Ahmedabad Chapter. The same was organized in an endeavour to not only facilitate the aid of such individuals who require medical assistance but also to promote the objective of a healthy environment and its conduciveness to the growth of human beings in interaction on a daily basis.
The total foot fall for the event was 399 with 179 units being collected post the blood donation for which 237 people had expressed the desire to be donors. 162 was the final count for those who underwent a thorough health check-up under the able hands of 7 specialists. Specialists included an ophthalmologist, physiotherapist, orthopaedic, gynecologist, ENT specialist, dentist, dermatologist and a physician. Not only students and staff of GNLU but also residents of nearby villages including Koba, Raysan, Firozpur, and Valad along with residents of nearby societies and students of colleges in Knowledge Corridor benefitted from this free health check-up camp.
The blood donation and collection surpassed that of last year and represents the number of people who are seeking and being a part of the initiative we need to take to preserve and further the humanity. Saurabh Anand, Faculty Convener of the GNLU Centre for Law and Society expressed his gratitude to the students, specialists and staff who contributed to the cause, and was confident in his belief that the Centre shall continue to be successful in its attempts to mould the law in a manner beneficial to society, with participation of all stakeholders, and healthy discourse, research and legal action.
(Written by Sanskriti Sanghi)
Workshop on Right To Information at St. Xavier's College
The Centre for Law and Society, Gujarat National Law University organized a special lecture on the "Right to Information Act, 2005" for the journalism students of St Xavier's College, Ahmedabad on 20th September 2017 (Wednesday). It was a student organized program led by the Student Convener, Sameer Rashid Bhat with the support and guidance of the Faculty Convener, Mr. Saurabh Anand (Assistant Professor of Sociology, GNLU). A team of eight students, Sameer Rashid Bhat, Isa Hakim and Gayathree Kalliyat from the fifth year, Rohan Merchant, Abhishek Vyas and Varnita from the third year, Anmol Kanodia from the second year and Keertana Venkatesh from the first year, conducted a session sensitizing the students about the importance of the Act, the right itself and how the students could make the maximum use of the same.
The concepts of Right to Information were explained using various visual aids. The introductory statement was given by Isa and Gayathree, who talked about the importance of information and the necessity of such a right in a democratic country. This was followed by the explanation of certain terms in the Act and the intricacies in procedure. State specific legislations were also explained. The lecture ended with an interactive session conducted by Sameer where the students were given hypothetical problems and they were asked to apply the concepts explained to them in the class. The students were also encouraged to file online/offline RTI applications to familiarize them with the procedure involved and to encourage them to become active participants of society.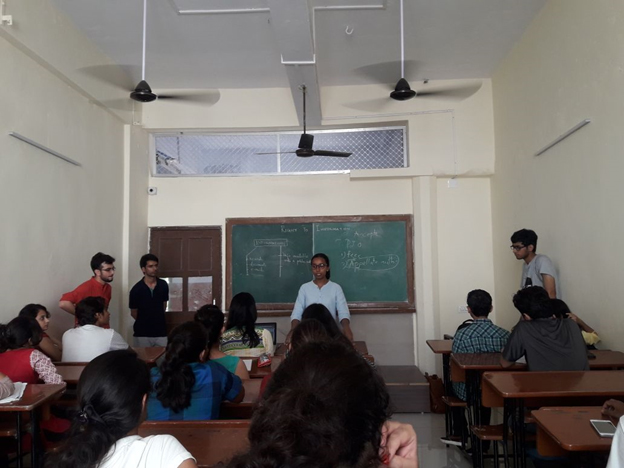 This lecture was in furtherance of the purpose of the Committee, which is to simplify legislations so that citizens are aware of their rights and know how to exercise them. The session was very interactive and both the Committee members and students of St. Xavier's found the activity to be very informative.
(Written by Anmol Kanodia)
Open House with Ms. Avni Bansal and Mr. Tejas Motwani
The GNLU Centre for Law and Society organised an Open House with Ms. Avani Bansal and Mr. Tejas Motwani on September 8, 2017. This served as the perfect opportunity for undergraduate and postgraduate law students to seek a nuanced understanding of how the social media age facilitates the idea of doing one's fair share for serving the society. They also answered students' queries regarding their future career prospects.
Ms. Bansal an Advocate currently working with the Chambers of Senior Advocate, Mr. Harish Salve, New Delhi, has balanced an exemplary career and stellar academic record in Hidayatullah National Law University, Harvard Law School and University of Oxford along with establishing and running an admirable legal awareness initiative through a YouTube channel called 'Hamara Kanoon', which focusses on legal literacy by explaining important laws in Hindi.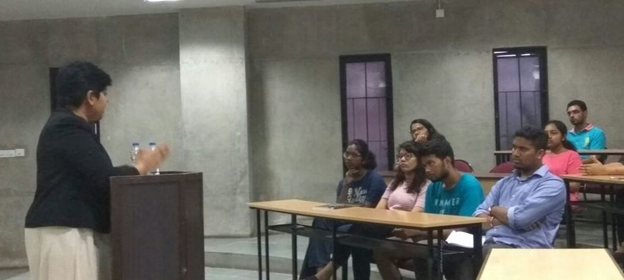 The Open House also featured Mr. Tejas Motwani, an alumni of School of Law, Christ University, Bangalore. He brought a vast amount of varied experience to the table with his stint at a Corporate Law Firm in Singapore, establishing his own firm and running a philanthropic organization called 'English with Tejas'. The session was an informative one wherein Ms. Bansal and Mr. Tejas Motwani provided some very useful insights regarding their initiatives.
Ms. Bansal encouraged the students to aspire big and advised them not to be apprehensive about taking big challenges from their first year at the law school. She stressed on the need for the students not to make either/or choices in terms of mooting or publication and rather maintain a balance between the two. She also stressed on the need to develop the writing skills of law students and gave the students some useful tips on how to design the best CV.
During the talk, she also emphasized on the need to think unconventionally, to share ones ideas with a large number of people, and to use one's skills to create something new. She also spoke about the importance of good internships in a law student's life. Her ideas on effecting changes in society by initiating smaller actions, say even writing a blog article for a social initiative that is difficult to realize in the capacity of a student. She focussed on how ideas should not be stored in a manner where they never see the light of the day. Rather, ideas should be channelized across different social media so that their propagation and adoption may lead to quantifiable results.
Mr. Motwani encouraged the students to ensure that their ideas are not restricted to themselves, but are known to the people. In this regard, he advised them to ensure that the research papers that they write are backed by good research and in a manner that they are worthy of being published. He also emphasized on the value of good publications for a law student.
After sharing their experience in the legal field, they turned to answer some queries from the students. Student: How important is it to have a backup plan for a law student aspiring to crack the UPSC examination?
Ms. Bansal: It is very important for every student to have a backup plan which would ultimately depend on the choices you make and the chances that you are offered. Always have an ABCD backup plan, under which A is your goal in life at the beginning of your law school life and plans B, C, D are your fall back options which would determine your choice of activities at the law school.
Student: What do senior advocates look for in lawyers?
Mr. Tejas Motwani: Students with a passion towards law are most sought after. One should be well versed with not only the laws but also the procedure of how courts work. He also shared his own experience in this regard.
(Report written by Anmol Rathore and edited by Yashi Saraswat)
The #SocialSurfing Workshop
Realizing the present generation's tendency to share every aspect of their lives on social media and the vulnerability that comes with it, GNLU Centre for Law and Society (GCLS) collaborated with the Centre for Social Research (CSR) to organize a fruitful interaction, or a 'dialogue' as the speaker would have it, in the form of a SocialSurfing workshop. Sponsored by Facebook, the #SocialSurfing movement which is currently in its third phase began in 2015 and has rolled through nearly 150 institutes to finally reach the shores of GNLU.
The objective of the workshop was to discuss the online safety mechanisms that are devised to control the information shared in the virtual spaces, and spread the word about solutions to concerns like trolling, cyber bullying, harassment, fake news, etc. The workshop witnessed the participation of a number of interested students keen to keep themselves protected in this increasingly digital world.
The speaker on the occasion was Mr. Arnika Singh, a Project Co-ordinator at CSR who initially spoke about the necessity of a positive and gender sensitive online experience. Not one to be content with a dull, routine monologue, the speaker preferred to jolt the audience into action by an on-the-spot drawing contest and a tanagram activity, connecting each with an important aspect of understanding social media networks.
The event started with the speaker introducing the idea of uniqueness, as starkly contrasted to the vulnerability of an individual on social media at the expense of being unique. The speaker emphasized upon the necessity of caution in voicing one's opinion across social media with sensitivity, given that opinions on social media lacks the context, intonation and background of an ordinary conversation, driving the idea home by equating a status update on Facebook with a person shouting out his opinion to a room full of family, friends, colleagues, employers and strangers.
A prominent feature of the workshop was a video shown during the speaker's presentation, which revealed several interesting facts about the impact of the 'social media' phenomenon on human behavior and the society at large, including how the human attention span has been cut short to a mere 7 seconds, a second shorter than Mr. Jojo, a pet goldfish of one of the attendees.
The speaker extensively discussed various aspects of security on social media ranging from password confidentiality to the prevalence of 'pranking' as opposed to hacking in the naïve Indian social media scene. The speaker encouraged students to adopt a safer approach on social media by apprising them of multiple in-built security features at their disposal. The discussion interestingly resulted in the revelation that it costs merely $27 on the Dark Web to buy the username and password of a Yahoo mail account. Mr. Arnika summed it up by saying that Facebook like most social media platforms spent the most for the security of its users, and the younger generation should avail the most of them to avoid cyber-crime scares.
Two questions were then posed at the end of the discussion:
Student: I cannot remember my password. Is it a good idea to let a web browser like Chrome or Firefox save my password? How else would you keep your data safe from the hackers?
Arnika Singh: The best method would be to write your password in a notebook since the hackers have access to only virtual spaces where it could be stored.
Student: Is it beneficial to have a common password for all accounts like Facebook, e-mail?
Arnika Singh: No, that is not recommended. You should at least add a suffix "@" or "2" at the end of different websites. The more illogical the password the better, since logic is where hackers begin their attempt at cracking passwords.
The speaker also shared his contact for anyone who has a reasonable suspicion of their account being hacked.
(Written by Ravin Abhiyankar)
2nd GNLU Essay Competition on Law and Society, 2017: Prizes worth Rs. 50,000 + Internships at Luthra & Luthra, Aarna Law and more.
The Centre for Law and Society, Gujarat National Law University has great pleasure in announcing the 2nd edition of the GNLU Essay Competition on Law and Society, 2017, a national-level essay competition being organized under the able guidance of Prof. Upendra Baxi, in collaboration with the Chambers of Ratan K. Singh.
Women, as the architects of society, hold the key to progress in a developing country like India. Their rights and duties, assimilated and crystallized within the framework of legislations and welfare schemes, mirror their status in the society. Recent amendments in laws related to women are slated to effect a metamorphosis in the social dynamics that require a thorough understanding of their newfound role in the society. In order to encourage further research and reflections along these lines in the Indian context, the Law and Society Wing of the Centre is organizing the 2nd edition of the essay competition on the theme "Toward Empowering The Indian Woman: Legal Reforms And Implementation". The following sub-themes have been identified as requiring academic consideration in the Indian context:
One Step into a Temple, a Giant Leap for Womankind?: Women's Right to Enter Places of Worship
Changing Tides of Indian Surrogacy Laws: Miscarriage of Law?
Balancing Work and Motherhood: Desultory Reforms?
Lifting the Veil: Muslim Women and Personal Laws
Welfare Schemes for Women in India: A Paper Tiger?
Women's Ease of Doing Business: Evaluation of Sexual Harassment Prevention Laws in India
Mediation as a Panacea for Women
Eligibility: The competition is open to all undergraduate and postgraduate students enrolled in any discipline in a recognized University/ College/ Institute in India.
Last date of Submission: April 16, 2017
Prizes: Cash Prizes up to INR 50,000 are up for grabs. Winners will also be offered internships by Luthra & Luthra Law Offices, Aarna Law Advocates, LawLex, Centre for Social Research, ActionAid and Centre for Social Justice. They will also be offered Certificate Courses by Enhelion on "Preventing Sexual Harassment at the Workplace". Certificates will be issued to all participants.
For any queries, drop us an e-mail at gcls@gnlu.ac.in or contact:
Mr. Sameer Rashid Bhat,
Student Convener,
GNLU Centre for Law and Society,
Mobile: +91 9998925880;
E-mail: sameer.gnlu@gmail.com
Ms. Gayathree Devi K. T.,
Student Coordinator, Law and Society Wing,
GNLU Centre for Law and Society,
Mobile: +91 8511970905;
E-mail: gayathree.d@gmail.com
Women's Day Special: Panel Discussion on the Role of Women in Contemporary Indian Politics
To mark International Women's Day, the GNLU Centre for Law and Society conducted a panel discussion with Mr. Saurabh Anand, Ms. Saira Gori, Ms. Bindu Vijay, Ms. Prabhavati Baskey, Mr. Tarun, Ms. Esha Meher, Mr. Sujoy Sur, Mr. Ambrish Tewari and Ms. Esha Tomar offering their insights on the Role of Women in Contemporary Indian Politics.
The discussion brought up many vital issues prevalent in today's political context, but it also offered individual and sometimes conflicting perspectives to the approaches to be adopted in combating problems faced by women in politics.
The session began with Mr. Tarun setting the agenda and the guidelines for the discussion and then giving the floor to the other panellists.
Ms. Esha Meher advocated a comprehensive approach and looking at problems with feminism at large. The issues with empowerment do not lie so much with how many people have voting rights but more so with how many people are able to exercise those voting rights. There should be a focus on how socially and politically aware a woman is. When she casts her vote, the questions we must ask ourselves is whether she cast that vote of her own free will, making an informed choice based on personal and individual political ideations, or if she was coerced into doing so by her husband.
Another issue she brought up was that a number of successful women in the political arena are women who have emerged from political dynasties. Having a family of male politicians bodes well for an Indian woman who wants to enter politics. However, breaking into the system should not be so dependent on nepotism.
Ms. Esha Tomar brought up the success of women in NGOs and how social workers who though do not play a direct role in politics, do help in raising awareness and other forms of social empowerment.
Ms. Saira Gori emphasised the rural -urban divide in empowerment and how that needs to be an area of focused change. Mr. Saurabh Anand raised the issue of despite there being reservation, the power to effect change is still frustrated when the top posts are held by men, and society and families are inherently patriarchal. Men need to stop being the only ones holding the reins and women need to be heard.
Mr. Sujoy Sur argued that women should not be given political identities as women but rather, as able politicians. Recognising her contribution based on her gender and not on her merit is not giving her full credit. There should not be a separate assimilation of gender identity in politics.
Ms. Esha Meher offered a different opinion on that subject. She believed, to ensure that there is empowerment, a woman should use her gender identity. She cited the example of Jayalalithaa, who created the "Amma" identity, intrinsically tied to her image as a motherly and caring figure. Women have something special to offer as a separate gender and that has to be identified and utilized.
Ms Prabhavati Baskey, promoted reservations as a solution to the problem. However, they have to be effectively implemented. She pointed out that often, seats reserved for women lie vacant as there are no competent candidates to contest elections The issue lies not with no woman being able, but rather, no able woman wanting to contest the seat. That is for reasons inherent in politics. Women are hesitant to join politics because of the way the nature of the political arena has degenerated into corruption and unfair practices. For women, a trend of dirty politics has to change before they enter politics. Ms. Esha Meher concurred and added that that applies equally to both men and women. No educated, decent human wants to devote their lives to practices and politics devoid of ethics.
Mr. Ambrish Tewari believed that the problems lie with societal misconceptions of what a politician should be – because of stereotypes on how an ideal politician should meet certain parameters, able women are not elected to power.
Ms. Bindu supported the ideas of evaluation of parties in terms of the levels to which they empower women and reprimanding them for failures. Furthermore, the government must focus on effective implementation of existing schemes for empowerment.
Mr. Sujoy pointed out that subtle changes need to occur. Even the language we use could promote a subtly patriarchal mindset and reinforce gender prejudices. To sum up he proffered suggestions – to educate both men and women about empowerment and the contribution women can make to politics, and to ensure upward political mobility among the labour force. Ms. Esha Meher added that we need to start ensuring there is economic empowerment of women as political change would appear incidental to that, and we need to acknowledge biological differences between sexes and concomitant differences in ability.
The discussion posed some thought provoking questions- questions that can only be answered individually, but it was a significant mark of the day. A fitting testament to the progress and change women have made and have the potential to make.
Report written Samira Mathias, Member, GNLU Centre for Law and Society)
Ms. Ira Singhal (Rank 1, UPSC 2014) on 'Overcoming Barriers in the Pursuit of Civil Services Examination'
On February 18, 2016, the GNLU Centre for Law and Society organised an 'Open House with Ms. Ira Singhal' on the topic "Overcoming Barriers in the Pursuit of Civil Services Examination".
Ms. Singhal is a 2015 batch, AGMUT cadre IAS officer. She was the highest scoring individual in the UPSC's Civil Services Examination for the year 2014. She got Indian Administrative Service (IAS) on her fourth attempt. In her first three attempts, she got the Indian Revenue Service (IRS). Ira Singhal is an engineer and also holds an MBA degree. Before joining the civil services, she worked as a Strategy Manager with Cadbury India for two years. She designed the launch plan of Cadbury Dairy Milk Silk and many other projects during her tenure. Disillusioned with the idea of the sole pursuit of money and wanting to bring about change in society irrespective of the magnitude, she left her job and appeared for the UPSC exams.
The 'Open House with Ms. Ira Singhal' witnessed a huge turnout with around two hundred civil services aspirants from GNLU, PDPU, SPIPA, Chahal Academy and many other institutes attending the session and interacting with Ms. Singhal.
After a brief introduction with the audience by Ms. Singhal, students got the chance to ask her questions. With her succinct and often humour-laced answers, the session was engrossing and informative.
The following are a few questions the students posed:
Student: What should I focus more on - Prelims or Mains?
Ira Singhal: One needs to have a very practical approach while making such strategies. You should understand that you only need to pass Prelims, but it is the Mains that you need to score well in to clear the examination. So, I personally believe that you should focus more on the Mains. Someone might ask what the difference is between preparation for these two. Now fundamentally, Prelims have questions which ask 'What', whereas in Mains they ask 'Why'. So, there is a different approachaltogether in attempting these papers. If you only focus on 'What', you will never be able to clear the Mains.
Student: Should I join some test series?
Ira Singhal: Whether or not you should join a test series is something that differs from person to person. Personally, I could not join a test series since I started late and did not have time to write test papers. Nevertheless, writing test series does help bring a flow in your answers. I have seen many people who mean something else but when they write they are not able to present their views. In such cases, writing test series helps you. Test series may also help you gauge how much you know.
Student: What is the difference between a corporate job and a government job?
Ira Singhal: Corporate jobs and government jobs are very different things. With regard to your personal life, you get more freedom in a corporate job. But I personally feel that there is more job satisfaction in being a civil servant. You can bring about change in the society. If you see that something is wrong, you have the authority to amend it. But there are times in the office where work is very slow, as opposed to jobs in the private sector where everything is fast paced.
Student: What are the benefits of having work experience and then appearing for UPSC exams?
Ira Singhal: Having work experience helps you a lot and I personally feel that one should have work experience of at least two years. The reason being, first it helps you have a backup plan. Second, it gives you maturity which shows in the answers you write. Third, it teaches you how to handle pressure.
Student: How do you choose an optional subject?
Ira Singhal: Many people say that you should select such and such a subject just for the reason that they feel that people do not pass it. But there is no optional in which no one passes. So choose an optional, which you are interested in because the syllabus is so vast that if you are not interested in it, you will never be able to complete the subject.
Student: How was your life in Mussoorie?
Ira Singhal: The academy has an extremely beautiful campus but we had no time to go see it. We were busy throughout with our classes on weekdays and treks and hikes on the weekends. We were so busy with our classes, treks, mid-terms and finals that we couldn't explore the campus. The only time we could go around the campus and click pictures was when our families visited us. The experience at the academy is extremely interesting since one meets and interacts with hundreds of new people from different states and cultural backgrounds. For me the three months at the academy whizzed past.
Student: How helpful are coaching institutes?
Ira Singhal: Even this is something which is very dependent on the individual. Coaching institutions help you make a schedule. They also tell you how to begin and from where to begin. For someone like me who studies at her own pace, they were not beneficial for me. But at the same time, I had to take coaching for Geography, since I had taken an optional subject in which I had no background.
Student: How did you prepare when you never made notes?
Ira Singhal: I never made notes so I read the books again and again. The problem with making notes is that when you read a book you only understand sixty percent of it and while making the notes you only write 20-30% of what you have understood. So, effectively you only write 20% of what has been written in the books. I feel that making notes is a short-cut and a lazy way to do things and there is a limit to lazy ways you can opt for while giving UPSC.
Student: While writing answers should I be diplomatic or should I be honest?
Ira Singhal: There are few questions where you have to put in your opinion, for example, there are questions where they ask for a critique of the government. In such cases, many people believe that writing a diplomatic answer is a smarter option. But I do not feel the same. The question requires you to objectively analyse the government policy or whatever is asked and write accordingly. By not doing so you will end up writing an incomplete answer. However if you have a very biased or very radical opinion about something, it is better not to write it. There is a difference between a biased and an analytical opinion. You should realise which it is and write an analytical/honest answer.
Student: Can you give some tips about the interview?
Ira Singhal: An interview carries 275 marks and all other subject carry 250 marks. So first, don't view the interview as a next step, but look at it like another subject. In the interview, you should present yourself as you are and not someone else. There can be two kinds of questions: one, where the interviewer focuses more on the candidate's personal life, his/her interests and hobbies, his/her decision making skills and ability to deal with certain situations rather than facts. The other type is where the questions would tend to be more factual and related to current affairs. I personally believe that the former makes more sense. Also, communication skills matter but the interview is not dependent on it alone. So, even if you don't have very good communication skills, do not worry much about it.
Student: What were the mistakes that you made in your first three attempts?
Ira Singhal: I made quite a few mistakes and before giving my fourth attempt I had to analyse my previous mistakes and prepare accordingly. One mistake that I made was that, on being told by coaching institutions to do so, I started writing answers in paragraphs when I was more comfortable with writing answers in points. Another mistake that I made was that I used to attempt questions which I did not know and because of this I wasted my time and it was never fruitful. In my fourth attempt, I attempted only those questions, which I knew.
Two things that you should note - while writing answers think like an examiner. Also, everyone makes different mistakes and so you should analyse the reasons behind these and amend them.
Student: How did you prepare for current affairs?
Ira Singhal: I used reading material of coaching institutes and some online websites.
Student: When should I start practicing answering questions?
Ira Singhal When you are done with preparing the content, because for a major part of it, it is not the way you write but what you write that matters.
Student: Does any prior internship at government institutes help?
Ira Singhal: It is fine even if you do not have any such experience.
Student: How does one apply for foreign services?
Ira Singhal: You are given options, you can choose it as a top preference.
Student: What kept you motivated?
Ira Singhal: One factor because of which I was never de-motivated was that my preparation was not continuous. Also, you need to see why you get de-motivated. You get de-motivated when you start feeling that you will not be able to achieve your goal. Never allow these thoughts to gather and try removing them.
Student: How did you manage your hobbies with your studies?
Ira Singhal: I never thought that I will study for eight hours or some definite number of hours. I used to schedule my studies according to content. I used to plan to study certain topics every day and not plan to study for eight hours every day. This strategy helped me save time and allowed me to pursue my interests along with it.
Student: What is the goal of your life?
Ira Singhal: To create some change in society and better the lives of as many people as I can.
Student: I am a first year student, from when should I start preparing for UPSC examinations?
Ira Singhal: You are too young to even narrow down that you want to appear for the UPSC. Do not restrict your growth. It often happens that students start preparing for the UPSC from their first year and because of this they forget to study in college. After this, they take a drop year and attempt it again. In case such a student does not clear the test, he/she opts for a career in the private sector. But because he/she had closed many doors in his/her graduation time, his/her market value falls. As a first year, you should not fall for this, you should always have something to fall back on and so, at this stage don't restrict your growth.
Student: What do you think when you fail?
Ira Singhal: I have grown accustomed to failure. The definition of failure is different for everyone and the stage of failure also matters. But one thing my parents have taught me is to never blame the circumstances.
Student: How does one adjust to social pressure?
Ira Singhal: You should learn how to adjust to social pressure not only for the UPSC but for life. This applies especially to women. You need to understand that people are not going to live your life, it is you who has to. So don't let anyone tell you what you should do in life.
Student: How do you navigate the vast amount of information available online?
Ira Singhal: You should first complete a study of all offline material such as books etc. and then move on to online material. Books act as your base.
With these and many more questions, the doubts and apprehensions of UPSC aspirants were resolved. The interactive session went on for a couple of hours. Towards the end of the event, Ms. Ira Singhal was felicitated by Prof. Saurabh Anand, Director, GNLU Centre for Law and Society. The event was
concluded by a vote of thanks delivered by Mr. Sameer Rashid Bhat, Student Convener, GNLU Centre for Law and Society.
(Report written by Jayaditya Mallik & Anmol Rathore and edited by Muizz Drabu & Samira Mathias; Pictures by Sanskriti Sanghi & Jayaditya Mallik)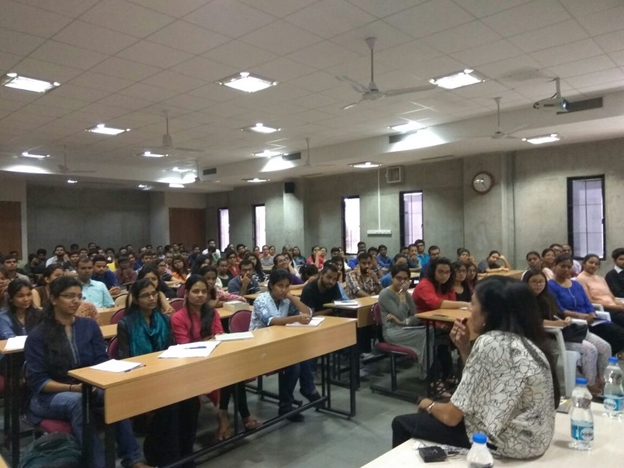 Open House with Prof. Upendra Baxi
The GNLU Centre for Law and Society is organising an interactive session, "Open House with Prof. Upendra Baxi" tomorrow at 2.30PM (Thursday, July 21, 2016). Prof. Baxi will speak on various issues like Uniform Civil Code and interact with the audience.
About Prof. Upendra Baxi:
Prof. Upendra Baxi is a renowned legal scholar and currently Emeritus Professor of Law at University of Warwick. He has been the Vice Chancellor of University of Delhi (1990–1994), prior to which he held the position of Professor of Law at the same university for 23 years (1973–1996). He has also served as the vice chancellor of the University of South Gujarat, Surat, India (1982–1985).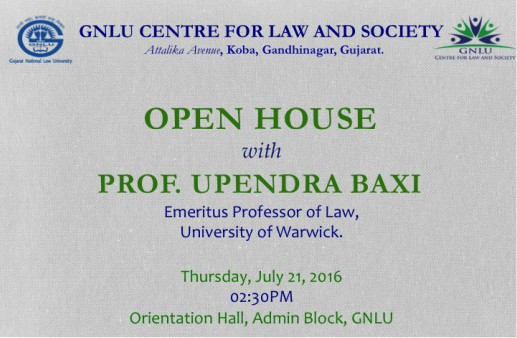 Professor Baxi has taught various courses in law and science, comparative constitutionalism and social theory of human rights at Universities of Sydney, Duke University, the American University, the New York University Law School Global Law Program, and the University of Toronto. Prof. Baxi's areas of teaching and research include comparative constitutionalism, social theory of human rights, human rights responsibilities in corporate governance and business conduct, and materiality of globalization. In 2011, he was awarded the Padma Shri, the fourth highest civilian award in India, by the Government of India.
Special Lecture on "LGBT Community and their Legal Rights"
Mr. Manvendra Singh Gohil
"I'm a nomad. I don't live in one particular place. I go where the world wants me to go and share my ideas about the LGBT Community, being a part of it and working for change."
The GNLU Centre for Law and Society organized a Special Guest Lecture on 'LGBT Community and their Legal Rights' on April 18, 2016, Monday. The lecture was delivered by Mr. Manvendra Singh Gohil, Chairperson of the Lakshya Trust Foundation which works for and with the LGBT Community. Mr. Gohil is an openly gay Indian male whose story of coming out had made headlines in 2006 by virtue of his being the son and probable heir of the Maharaja of Rajpipla in Gujarat. He faced extreme resistance from the society with effigies of him being burnt publicly. He has appeared as a guest on the Oprah Winfrey show and been featured in a show entitled 'Gay around the World' and a BBC Television series, Undercover Princes. He shared the journey and his experience pertaining to these milestones with the students of GNLU.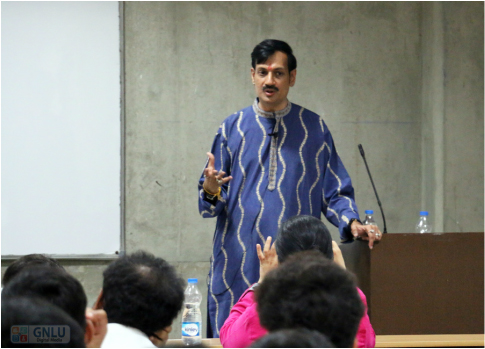 Mr. Manvendra Singh discussed his views regarding the LGBT community's backward position and the ostracization faced by them, as well as the role of identity as unique to each individual. He also briefly discussed the role of the courts and the Naaz Foundation judgment by the Delhi High Court. He expected positive outcomes in the future in light of the NALSA judgement pertaining to Transgender Rights, as a symbol of the impending change.
The session was extremely interactive with students raising questions pertaining to the interpretation of Section 377, Indian Penal Code, 1860 and Mr. Manvendra's views on the same. He also raised various points regarding the hypocritical nature of society in light of the images and sculptures in Indian places of worship as well as the history of eunuchs in Indian courts and the role played by them. Students questioned him on the parallels between the LGBT movement and the Feminist movement as well as his views on Gay Prides which have resulted in severe opposition in society.
He also posed students questions regarding funds for the cause and whether supporting homosexuality could also be considered a crime in itself when it furthered and resulted in the progress of society as well as the various terms used by society in light of one common identity- of being humans. The lecture was extremely honest and provided the students with food for thought with various perceptions and stereotypes shattered.